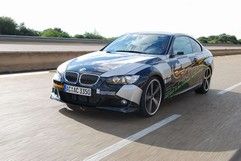 Long-serving BMW tuning house, AC Schnitzer, has set a world record for the fastest road-legal diesel production car at the Nardo test track in Italy.
The Schnitzer ACS 3.5d coupe, which makes 306bhp against the 282bhp of the 335d on which it's based, recorded a top speed of 288.7kph (179.2mph) at the 13km high-speed bowl of the test track in southern Italy.
They've even made a video to prove it, although we recommend you watch it with the volume down unless you are fond of a spot of euro-house.
Oh, and the attendant Z4 is the 355bhp Schnitzer ACS4 3.5 Turbo, which is based on the Z4 sDrive35i. That didn't break any records even though it managed 188mph...