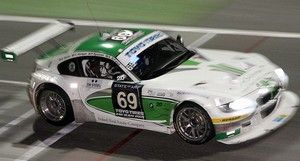 Z4M racing at the Dubai 24hrs last January
BMW Motorsport has announced a new turn-key racing version of the Z4. The Z4 GT3 will feature a race-tuned version of the 4.0-litre V8 from the M3.
The Z4 GT3 will be eligible for numerous GT3-level formulae including the FIA European GT3 championship, and is designed to be bought and raced by private teams and individuals.
A six-speed sequential gearbox helps put a claimed 480bhp on the tarmac, and technology from other racing BMWs, including a Type-408 racing ECU and a Power400 Control Unit, helps to maximise the grunt. Racing ABS is also standard, and there's optional air conditioning for endurance races and hotter climates.
BMW will take orders for the Z4 GT3 from the second quarter of 2010, at a rather serious price of around 298,000 euros (£266,082).