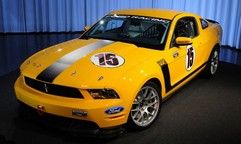 Forty years after its namesake became a road racing legend, the BOSS is back on track for 2010 with the latest Mustang's new 5.0-liter V8 engine under its hood.
According to Ford Racing, the BOSS 302R marks the 40th anniversary of the 1970 Trans-Am championship win by a Mustang BOSS 302. The new machine is a factory-built race car ready for track days and road racing in Grand-Am, SCCA and NASA classes - and we reckon it looks the bizzo.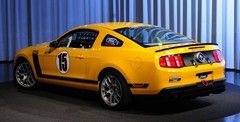 "To keep pace with consumer demand, the Ford team has built modern versions of the most iconic performance Mustangs over the years," says Jamie Allison, director, Ford North America Motorsports. "From Shelbys to Bullitt, Mach and Cobra Jet, it is now time for BOSS to join the list of America's most coveted Mustangs. The original BOSS 302 was a championship-winning legend and the new Mustang BOSS 302R will carry on the tradition. The Mustang was born to race from the start, and this new Mustang is bred to win."
Sadly that all means the Mustang BOSS 302R is a track-only machine, and it will be limited to just 50 factory examples, although presumably Ford Racing will supply all the parts if customers for the latest 5.0-litre Mustang want to built their own.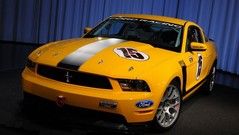 The key elements are the new 5.0 V8 with a six-speed manual transmission, roll cage, race seats, safety harness, data acquisition and race dampers/springs, and a Brembo brake and tire package, starting at $79,000 in the US.
"Racing has long served as a technical proving ground for production engines," said Allison. "What's good enough for the streets is now good enough for the racetrack. The 5.0-liter block and architecture in the Mustang BOSS 302R is the same as the 2011 Mustang GT."