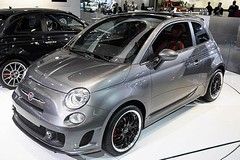 It's fair to say that electric cars are a bit of a theme at Detroit this year, and Fiat is clearly keen to join in with the electric fun. Enter the Fiat 500 BEV (which - disappointingly - is an acronym for 'battery electric vehicle' rather than being short for the name Beverly).
Unlike the electric BMW 1-series, however, the 500 BEV is purely a concept. There are no plans for production - the BEV has been created so that Fiat and Chrysler can investigate the viability of a small, sporty electric car.
With a body based on the 500 Abarth, the bronze BEV certainly looks good, but we can't even guess as to how it runs, because Fiat isn't even talking ball-park power or range figures.
The fact that it has four seats also strongly suggests to us that the BEV isn't a runner - where would they put the batteries?