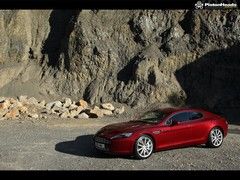 Adam Towler really took a bullet for us this week. Whilst we were luxuriating in the February drizzle,
he bravely headed off into the vile Valancia countryside to give us his thoughts on the Aston Martin Rapide
. He even agreed to subject himself to a hoon on some idlylic mountian passes. What a trooper.
Back at home not everybody is sold on the 'four-door DB9' look just yet, but its hard not to find it appealing in this official snap from the Spanish launch. Next to giant bits of planet the Rapide's immense dimensions are somewhat harder to scale, leaving us instead to enjoy the elegance and smart packaging of this contender to the crown of king luxo-barge-coupe.
So as you recline on your wheely-chair and gorge yourself on Tesco's finest, perhaps seeing this on your desktop will remind you to spare a thought for the poor souls who go through this toil on our behalf. May your deity of choice bless them.
Normal (1280x1024)
WideScreen (1440x900)
SuperSize (2048x1536)