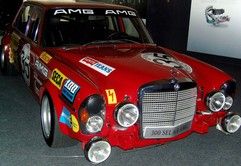 The original Red Pig racer
Fabulous as Mercedes AMG's Affalterbach facility just outside Stuttgart is, all factory tours have a tendency to sag towards the end. So, almost exactly half way through ours, the assembled media is promised a 'very big surprise' to end the day.
We're here, (on the eve of the Geneva Show), ostensibly to learn about AMG's new 5.5-litre direct-injected, twin-turbo V8. Better than that, we'll see it being assembled in the time-honoured one man-one engine AMG way.
It's called the M157 and makes its debut in the S-Class, replacing the S63's normally-aspirated 6.2-litre unit. The potent new motor, which comes with 544 or 571bhp (the so-called Performance Pack Plus version) will be phased in to replace the current generation M156/M159 V8s over the next two years.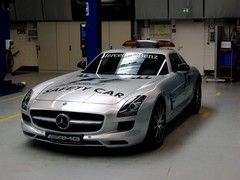 AMG F1 pace car on the eve of the show
Actually, the walk-around is fairly spellbinding. Casually parked up in one corner is the SLS Safety Car that will lead out this year's F1 field in Bahrain, in another a powder blue SL with six exhaust pipes. As we stroll towards the the engine production line a 5-tonne G-Wagon with 2-inch thick glass almost blocks our path. It's hard not to be impressed.
But it's when dry ice starts to swirl rounds the large black doors of the refreshments marquee we've been ushered into that the penny begins to drop.
One of the prize turntable exhibits is a replica of the legendary 1971 racing 300SEL 6.3 (but really 6.8 with 420bhp) that won the Nurburgring 24 hours and is affectionately known as the Red Pig. As the doors slide apart and the floor begins to shake to the bassy burble of a large, lightly-silenced V8, the game's up.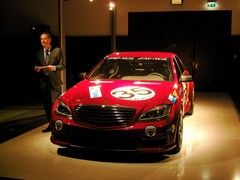 And the new Red Pig - sort of...
The very first S-Class to be powered by the new M157 engine is a red S-Class with blistered arches, a stripped out and caged cabin and a full complement of precisely replicated sponsorship stickers. It doesn't look or sound anything like as mean as the original Red Pig, but it's certainly a tougher look for the S-Class.
Naturally Red Pig 2 packs the 571bhp PP+ motor and, with 664 lb ft of torque to back it up, AMG's 0-62mph claim of 4.3sec seems entirely credible. If a little academic.
The homage was turned from idea to rumbling reality in three weeks flat for this very factory tour finale. Unlike the SLS pace car it wasn't wheeled off to an empty slot on the Mercedes stand at the Geneva show, and no one really knows when or if it will be seen again.