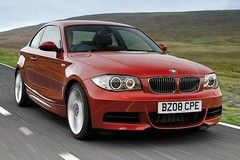 Where are those driven wheels again?
It seems that BMW need not worry about polluting its 'ultimate driving machine' identity with the planned introduction of a front-wheel drive hatch - 80 per cent of BMW 1-series drivers already reckon their car is front-wheel drive.
For a company that has for so long been obsessed by the 50:50 weight distribution and uncorrupted dynamics that rear-wheel drive can provide, this little stat must have initially come as quite a blow.
Still, if you can't beat 'em, you may as well join 'em. According to US website Automotive News, BMW CEO Norbert Reithofer revealed this shocking nugget last week, after an analyst suggested that a front-wheel drive BMW might confuse customers.
Reithofer admitted that BMW bosses were surprised by the findings of their 1-series survey, but at least it proves that there is some sense in BMW's ambition to get a million front-wheel drive new BMW and Mini models on the road by 2015.