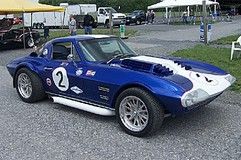 Proof that major corporations lack a sense of fun, especially when it comes to lucrative licensing deals. General Motors is suing Ohio-based Mongoose Motorsports for producing unlicensed replicas of the super-rare 1963 Corvette Grand Sport.
The original Grand Sport was designed as a 'Cobra killer' to compete in sports car racing. The original production run was supposed to be 125 cars, but the programme was axed after just five had been built. These now change hands for millions of dollars.
GM says that the $90,000 (£60k) Mongoose replicas have caused irreparable damage to the Corvette brand and wants to bar the company from using any Corvette labels or trademarks. It is also claiming unspecified financial damages.
Part of the problem is that Texas's Duntov Motor Co has an exclusive deal to make Grand Sport replicas - for $189,000 (£126k). But GM has also taken exception to Mongoose's use of Corvette emblems and trademarks.
For Mongoose's own part, the small print at the bottom of its website says that "it is neither inferred nor implied that any item offered by Mongoose Motorsports is a product of, authorized by or in any way connected with any vehicle manufactured by General Motors. The Trademarks Corvette, Stingray, Chevrolet, GM and the Corvette emblems are Trademarks of General Motors Corporation."
But whatever the result of the lawsuit there's no doubt that the Mongoose replica, be it illegal copy or homage (delete as appropriate), remains a pretty tasty machine, as this video (below) goes to show.