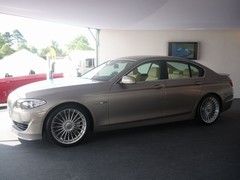 The latest 5-series has received the Alpina treatment and the new car, the Alpina B5 Biturbo saloon, gets its world premiere this weekend at the Goodwood Festival of Speed.
Although it's on public display at Goodwood, the new B5 doesn't get its official press launch until next week (we can't work that out either), so we sidled up to the the Alpina stand to find out a bit about the new car.
Beneath the bonnet is Alpina's take on the BMW 4.4-litre twin-turbo V8 (the same as you'll find in the 7-series-based B7). It produces 500bhp at 5500rpm and a far from insignificant 516lb ft of torque at 3000rpm. The engine drives the rear wheels via an eight-speed automatic, and can push the big saloon to an unrestricted top speed of 191mph, via a 0-62mph sprint of 4.7secs.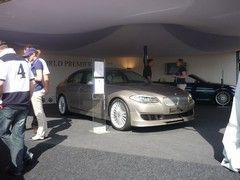 The B5 Biturbo costs a fiver under 70 grand, so may well undercut the new M5. In any case, you'll have to wait until 2011 to get your hands on the F10-based M5, so for now this is the fastest 5er money can buy.
As well as being on the Alpina stand at Goodwood, the B5 Biturbo chassis number 001 (a right-hook UK car - quite a fillip, the ALpina UK chaps tell us) will be running up the hill on Friday, Saturday and Sunday - the first time the car willhave been seen on the move.