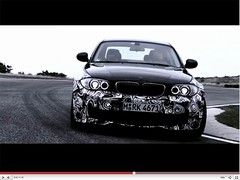 BMW has released this teaser video of the long-rumoured and only
recently confirmed BMW 1-series M
.
The new car, likely to be called 135i M, is due in 2011 and will use a pumped-up version of the 3.0-litre turbocharged straight six already installed in the regular 135i, rather than an all-new engine.
But whatever the powerplant or name, the new hot 1-series looks like it's going to be pretty exciting. In fact, if the slightly scary German chap in the video is to be believed, "you will not leave the car, you will not give the keys to anybody else".
Although that sounds a bit like a sinister threat, we think he means that the car is going to be so much fun that you won't let anybody else have a go, should you buy one. We hope.