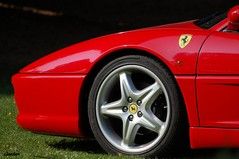 Developed from the 348, the F355 had its work cut out to address its predecessor's reputation for difficult on-limit handling. To do this, Ferrari reworked the all-round double unequal length wishbone suspension's geometry and added electronic shock absorbers to its new mid-engined model, which dramatically improved body control and handling. These shocks had two settings - comfort and sport. There's a warning light on the dash as a tell-tale if the dampers have failed.
A new undertray was also a feature of the 355, borrowing from Ferrari's Formula One experience with aerodynamics to greatly reduce lift in the 355 compared to the 348. Rack and pinion steering featured power assistance, which the previous 348 had not enjoyed. It greatly improved the everyday usability of the 355, but many felt the 355's steering was not as sensitive or as full of feel as the 348's. At 3.2 turns from lock to lock, the 355's steering is quite low-geared but makes it a better motorway and long distance cruiser than earlier Ferraris.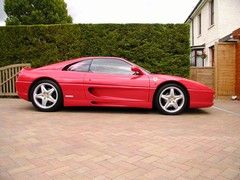 Ventilated brake discs are fitted all-round on the F355. The front discs are 300mm, while the rears are 310mm in diameter, and they sit inside 18in wheels. At the front, the wheels are shod with 225/40 ZR18 tyres and the rears are covered by 265/40 ZR18 rubber.
Ferrari didn't offer the 355 in the wider array of versions we're used to with newer models, but there was the Challenge race car. It came with 18in Speedline alloy wheels, rear brake cooling ducts, solid suspension bushes and competition springs, larger Brembo brakes, roll cage, fire extinguisher, racing seats, quicker steering rack and a competition clutch.
The final 100 355s made were also built with a competition-based suspension pack. Called the Serie Fiorano, these 100 cars had a wider track, stiffer springs and thicker anti-roll bars. They also had a competition steering rack, bigger brakes and some carbon fibre trim. The Fiorano handling pack was an option for all F355s, but was only standard on these last models.
Buying Guide Section Menu:
Ferrari F355 - Introduction
Ferrari F355 - Powertrain
Ferrari F355 - Rolling chassis (viewing now)
Ferrari F355 - Body
Ferrari F355 - Interior
Ferrari F355 - General experiences
Ferrari F355 - Search the PH classifieds...