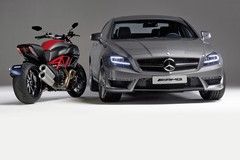 AMG and Ducati have announced plans to co-operate on marketing activities, in a fascinating tie-up that could take us in all sorts of interesting directions if the partnership develops.
A 6.3-litre twin turbo V8-powered Ducati Monster seems the obvious apogee of the nascent relationship announced in Los Angeles yesterday, but sadly co-operation is currently limited to AMG sponsoring Ducati in the MotoGP series.
"I am very pleased that we are able to announce our strategic cooperation with Ducati today. AMG and Ducati ideally complement each other, as both companies share the same values: racing as the driving passion, and high performance plus exclusivity as the central brand messages of both AMG and Ducati. This long-term cooperation will help us to jointly access new customer groups," said Ola Källenius, CEO of Mercedes-AMG GmbH, at a press conference.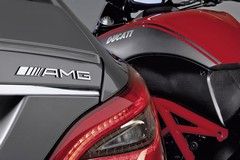 "I am especially proud to have AMG as one of our sponsors for the MotoGP team. I am also very pleased that our joint marketing activities are well under way. In AMG we have found a partner who perfectly reflects our brand values of high performance, motorsport, excitement and our sense of unmistakable style and design," added his new best buddy, Gabriele del Torchio, President and CEO of Ducati Motor Holding S.p.A.
The first visible results of the cooperation between AMG and Ducati will be joint marketing and sponsoring activities, they tell us.
During selected AMG events, participants will be able to take test drives with Ducati motorcycles, and Ducati customers will similarly have the opportunity to familiarise themselves with the latest AMG high-performance cars.
Wonder if there'll be a media launch day to help get the party started...