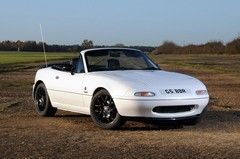 We're suckers for an old MX-5 here on PH, so we couldn't resist a plug for this new 'anniversary' edition from established tuner BBR, who are celebrating 20 years of upgrades to the world's most popular sports car.
The original MX-5 BBR turbo was launched in 1990, when PH was but a twinkle in Petrol Ted's eye. The new 20th anniversary edition fits both Mk1 and Mk2 variants in both 1.6 and 1.8 litre capacities, and in the words of BBR 'transforms the much loved Mazda MX-5 into a serious driving machine, elevating its performance from sedate to electrifying'.
That original 1990 turbo kit offered 150bhp but, as you might expect, time has matured the product - it now offers a dyno-proven 220bhp from just 1.6-litres.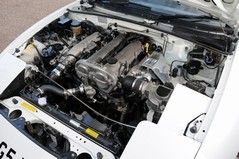 It costs £4995 fitted, and includes a Garrett GT25 ball bearing turbocharger, high temperature alloy cast exhaust manifold with ceramic coating, a front mounted intercooler, revised engine management, bigger fuel injectors, new induction system and a modified sump, among the other bits and pieces. Alternatively you can DIY that old MX-5 'shed' you've got tucked away in the garage for a more economical £3995.
If you're one of those folk who like it all done for you, BBR is offering completely renovated MK1 MX-5s with the turbo kit fitted, a tweaked chassis, leather seats and your choice of paint colour for a reasonable sounding £7,500. Visit the company website for more info.
Oh, and happy birthday folks!