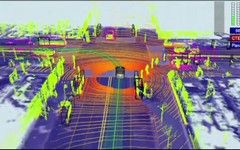 Sebastian Thrun, leader of Google's driverless car project has said that the embryonic technology could save a million lives a year should it entirely replace human-operated vehicles
We all know Google is going to rule the world one day, but Thrun's claim is pretty ambitious even for Google. Still, the search engine's driverless test cars (Toyota Priuses) have covered more than 140,000 miles so far. On public roads.
The driverless Prius's feats so far include negotiating busy city streets, motorways, country roads and even a San Francisco to LA road trip along the famous Highway 1 coastal route.
Thrun, a professor at Stanford university, reckons that future generations "will look back at us and say how ridiculous it was that humans were driving cars." Which, we suppose, is all right if you see driving as a chore. But what if you happen to actually like it?