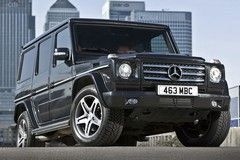 Rumours reach our ears (or rather our eyes, for this story hails from the fine folks at
autoblog.nl
) that the Legendary Mercedes G-wagen is to receive a spot of V12 heart transplant action before it shuffles off this mortal coil.
It seems that AMGís engineers may just want to celebrate the G-class/G-wagon/G-wagenís three-and-a-bit decades of production (the first car rolled onto the mud tracks of Germany in 1979) with a limited run of G65 AMGs before itís axed, thus blessing the chunky off-roader with 612hp and 737lb ft of twin-turbo V12.
Thatís 105hp more than than the current G55 musters and, considering that can manage the 0-62mph sprint in 5.5secs, a V12 version should be quite a beast away from the line Ė although aerodynamics will inevitably still severely restrict its top speed, so donít imagine anything much greater than the G55ís 130mph terminal velocity.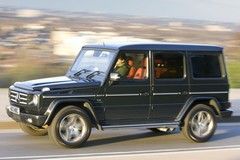 The G-wagen has form with V12s, too Ė Brabus does its own version and rumour has it that AMG has already produced a number of 12-cylinder versions for particularly enthusiastic (and wealthy) clients.
Thereís still no official word on whether the G65 will actually happen, but if it does our Dutch friends reckon we can expect a run of 200 units, priced at around Ä220k (£192k).