3.0

Engine Litre

65K

Mileage

450

bhp

Petrol

Fuel

Semi

Gearbox
Vehicle Description
My personal RZ auto Supra.
We enjoy this car at weekends only and dry store for the entire winter each year. During the few years that we have had the pleasure of owning this car a few nice mods have been made as follows:
Like most projects some parts still need doing or finishing hence a very cheap supra by today's standards.
Completed mods:
T4 top mount Twin scroll 88mm oil cooled wet float single turbo with 50mm external waste gate & dump or screamer pipe. (Sounds awesome)
Uprated fuel lines.
350 flow fuel pump
Large 400mm front mount Intercooler.
Boost controller set at 1.1 bar.
AEM wide band air fuel ratio.
Electric Blitz boost controller
Greddy turbo timer.
Uprated braked front an rear with roto disks and large Uk spec 4 pot callipers and brand new brake lines fitted through out underneath car with Goodridge braided hoses to callipers.
Coil over suspension.
Air conditioning re-gassed and ice cold.
Boost gauge.
Blue Kevlar cam belt by gates with adjustable cam timing pulley.
Oil lucus 10w 30 fully synthetic imported from the USA
19" x 8.5 front and 19x 10.5 rear alloy wheels with good tyres.
Blitz exhaust system
Brand new Uk spec glass headlights and brand new facelift tail lights.
Bodywork minimalist and fully de-seamed
Painted 10 years ago and was a decent job, deep paint with lots of Lacquer.

Drives seamlessly, smooth and very powerful, although a big turbo it does spool fairly quick considering it's size and sounds like a jet engine!
Gearbox is strong and shifts seamlessly.
The 2JZGTE Engine is perfect smooth and silent with incredible overall power throughout the Rev band. (Turbo is fully on line by 4000rpm)
It's a very pleasurable drive!
4 wheel tracking laser alignment set up.
New expensive Jbl component speakers and blue tooth head unit fitted.
Brand New Toad alarm and immobiliser fitted.

2 x fobs 2 x keys

MOT March 2020
Taxed and insured

Bad points:
Paintwork needs attention, stone chips and a scratch beneath one side skirt.
Bits here and there need touching in.
There is a dent in the bonnet where someone kindly sat on it while we are away on holiday while under car cover. (Above offside headlight)
Although the paint job was quality and not a cheap one they didn't key up the door shuts and handles so the paint is flaking off only in these areas. (Silly)
I've started installing a facelift dash but haven't fitted the clocks yet, I do have the parts.
I'm keeping an eye on the air fuel ratios to be sure it's running rich at boost but ideally the next thing would be to fit a stand-alone ecu and bigger injectors for more power and a map for bigger power gains.
There are many more things that can be done to this car!
Selling for genuine reasons.
She's 100% reliable and won't disappoint!

Thanks for looking!
Specification
Vehicle Specification
Engine

Layout

Front Engined

Size

3,000 cc

Aspiration

Turbo

Performance

Power

450 bhp

Torque

400 lbs/ft

Top speed

175 mph

Acceleration

0 to 62 in 6 secs

Transmission

Type

Semi Automatic

Gears

5

Driven Wheels

Rear Wheel Drive

Fuel

Exterior

Doors

3

Colour

Blue

Body type

Coupe

Interior

Technical

Dimension

Vehicle height

1,310 mm

Vehicle width

1,745 mm

Previous Owners

-
User Reviews
PistonHeads members who have owned this car or the same model
Summary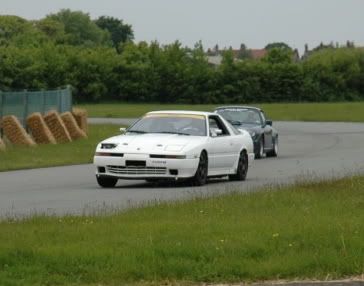 Ex Production Saloon racing car

Now racing post historic touring car

Bought Arizona 1988

LHD Read the full summary
View members blog entries about this car
Member's Costs
Based on 25,000 miles
Total
Per Year
Depreciation
£500
Running Costs
Total Running Costs
£0
£0
Total Costs
£500
£0
Contact seller
Private Seller, somerset, United Kingdom