---
Body
Powertrain
Interior
Rolling Chassis
---
If ever a car defined all that is right about BMW's M Division, it's the M3. The E46 M3 was the third generation of this compact, high performance model and it struck M gold with its balance of power, performance and usability.
Introduced in October 2000, the E46 developed the M3 theme with an improved and uprated version of the 3.2-litre straight-six engine. It developed 343hp, giving it one of the highest specific outputs of any naturally aspirated engines in the world at its launch. North American-bound M3s were saddled with a detuned engine producing 333hp, but we'll concentrate on Euro-spec models in this guide.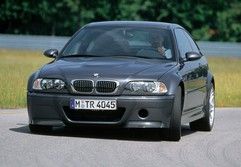 Hardcore CSL is the ultimate purist's M3
A six-speed manual gearbox was the only option for the E46 M3, but BMW offered it with SMG (sequential manual gearbox) to do away with the clutch pedal, but not the clutch. BMW also introduced a Convertible version of the M3 in February 2001.
The ultimate M3 arrived in May 2003 with the CSL (Coupe Sport Leichtbau). It shed 110kg over the standard M3 Coupe by ditching luxuries such as electrically adjusted leather seats, air conditioning, satellite navigation and the stereo system. As its suggests, the CSL was a more hardcore machine with unique 19-inch Y-spoke alloy wheels fitted with near slick Michelin Pilot Sport Cup tyres that made the car a handful in the wet. Because of this, BMW asked CSL buyers to sign a disclaimer saying they understood the nature of the tyres.
With an extra 17hp, plus a carbon fibre roof, front spoiler and rear diffuser, the CSL notched up 0-62mph in a claimed 4.5 seconds compared to the standard M3 Coupe's 5.1 seconds. The reality is the CSL managed this sprint in 4.5 seconds in contemporary magazine road tests and the standard car was good for 0-62mph in 4.8 seconds in the hands of an aggressive road tester. Both the manual and SMG transmissions delivered the same acceleration figures, while top speed was pegged to 155mph, though again reality showed 160mph was more usual.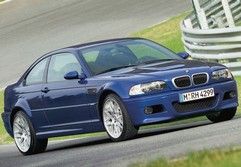 CSL influenced CS is perhaps the best balance
A last hurrah M3 CS in 2005 took the wheels, brakes, steering wheel, quicker steering rack and uprated traction control of the CSL and married them to an otherwise standard M3 Coupe. The big difference with the CS was it could be bought with the standard six-speed manual gearbox rather than the SMG 'box that was the only choice in the CSL.
Production of the E46 M3 came to a halt in August 2006 when the last of the Convertibles rolled down the Regensburg line. The very last M3s now command as much as £20,000, while early cars can be had for as little as £6,000, which makes the M3 just as much of a bargain now as was when new.
Production figures:
M3 Coupe - 54,750
M3 Convertible - 29,633
M3 CSL - 1,383 (includes 29 pre-production examples)

---
PHer's view:
"I was specifically after a car to be used as daily transport and after looking at a multitude if 'sporting' cars I settled on the E46 M3 as that seemed to tick all the relevant boxes. The car obviously undertakes normal 3 Series duties such as four seats, decent boot, etc but has that uncanny ability to step up and reward when you want a bit of fun and something to excite."
NotNormal

---