There was a lot to be excited about when BMW announced its Z4 M Coupe and Roadster models in late 2005 ahead of UK sales commencing in March 2006. For starters, it would be the last M Division car to use the S54 3.2-litre straight-six engine in all its 343hp glory. It was also offered only with a manual transmission.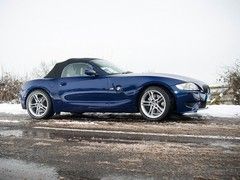 Roadster rarer but cheaper too
Available in Roadster and Coupe body styles, the Coupe outsold the drop-top in the UK and used values reflect the popularity of the fixed roof model. Prices for the Coupe start at around £15,000 for an example in good condition and with reasonable miles, whereas a Roadster will be around £1,500 cheaper for an equivalent car. At the top end of the price scale, the best late cars are worth around £22,000 for Roadster or Coupe, though extremely low-mileage versions can make more as the Z4 M gains modern classic status.
Much of that status revolves around the Z4 M's hardcore nature and reputation. When it was launched, both models had a claimed 0-62mph time of 5.0 seconds, though contemporary road tests saw that fall to 4.7 in many cases. The engine was praised for its immediacy and crisp throttle, helped by fly-by-wire technology. However, the Z4 M was also criticised for being jerky to drive at anything other than flat out. This is what has led the Z4 M to gain a reputation and devoted following among some and for others to avoid the car.
Many owners have kept their Z4 Ms for prolonged periods, noting there is nothing in BMW's current range to replace this model. For others, it is something to try and then move on when they find it too extreme.
For this reason, many Z4 Ms have relatively low mileages but a long list of previous keepers. Dan Norris, Managing Director of Munich Legends, advises: "Don't be put off by a lot of previous owners. Buy purely on condition and service history."

---
PHer's view:
"I used to have a E46 M3 so I know the engine is very reliable for something so highly tuned. I think Bangle really pushed the envelope in car design with the Z4 and the flame surfacing does look amazing, especially in sunlight. Even to this day the design hasn't dated. Personally I think the coupe complements the design even better than the convertible. To me it's unique, visually stunning car and destined for classic status."
Kenny Taylor

---