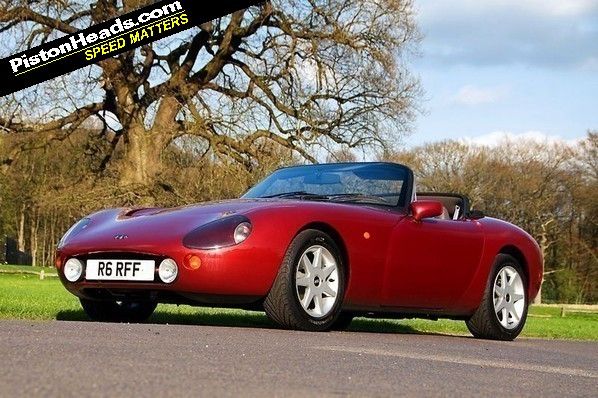 The
TVR Griffith
launched itself on an unsuspecting world at the British Motor Show in 1990 in Birmingham. Swoopy lines and the promise of a 240bhp V8 engine were enough to have 350 punters signing deposit cheques. Styled by TVR Boss Peter Wheeler and John Ravenscroft, the Griffith marked the true beginning of TVR's renaissance as a maker of desirable, serious fast and affordable supercars.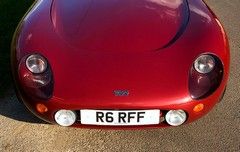 However, the show car was far from the finished. It was based on an S chassis that was at its limits coping with the 4.0-litre V8 engine that would be the entry-level model. With the burgeoning Tuscan race series as another TVR strand, the race car provided a much stronger frame, which was just as well as the 4.3-litre model boasted 280bhp to make it faster to 120mph than the contemporary Ferrari Testarossa or Porsche 911 Turbo.
With the basics sorted, TVR began selling the Griffith in late 1991 to much acclaim from customers and the press. With a starting price of £28,965 for a 4.3, there was nothing could touch the Brit for performance (0-60mph in 4.7 seconds, 161mph top speed) or looks.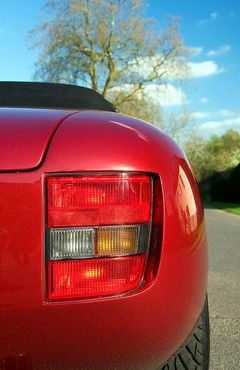 Sales got off to a flying start, with 716 of the early 4.0- and 4.3-litre cars delivered up to the end of 1993. Then TVR decided to supplement these engines with a 5.0-litre V8 motor with 380bhp, which sold steadily throughout the rest of its life. By the end of 1997, the Griffith 500 had notched up 1179 sales, while the final 100 models sold in 2001 were Special Edition. These last cars are identified by their different rear lights and door mirrors, and the uniquely number plaque in the glove box. They also use a mix of Griffith and Chimaera components for the dash.
The Griffith Speed Six of 1996 was stillborn, which was perhaps as well due the reliability problems experienced with TVR's own AJP6 engine. As for the Rover V8-powered production cars, there's little difference in value between early 4.0- and 4.3-litre models and the later, more common 5.0-litre cars, so buy on condition and history.
*Thanks to Fernhurst TVR for supplying a car for pics - and Trackdemon for the camera work.
Click the section links below to find out more - and please add your comments to the individual forum threads linked below:
1) Introduction (reading now)
2) Powertrain
3) Body
4) Rolling Chassis
5) Interior
6) Insurance quotes
7) TVR Griffiths in the PH classifieds now...