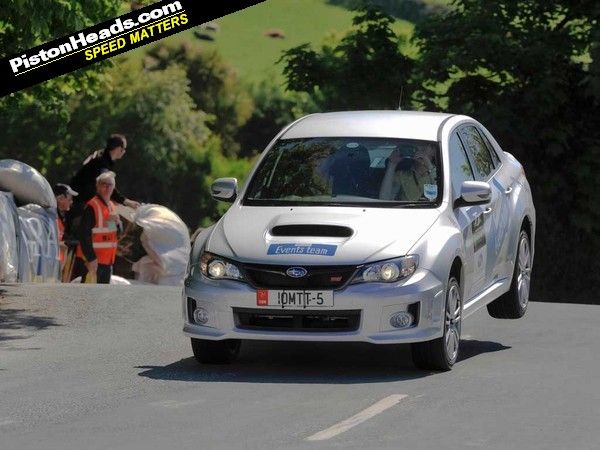 Day one
When a three-time British Rally Champion proclaims "…and
that's the biggest moment of my life
there" on video, you know that the preceding piece of car control must have taken superhuman skill to keep it out of the scenery – firing a Subaru WRX STi between two dry stone walls at 150mph
while fighting to keep it in a straight line
ranks highly on the "Oh, sh…" scale.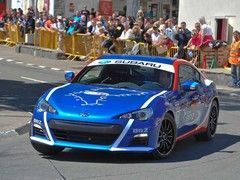 Higgins shows Sean round in a BRZ
The TT mountain course is a fearsomely complex piece of tarmac to drive. To combat the track in a car is difficult, but to do it on a 230hp superbike topping speeds of over 200mph
is plain insane.
"There are a few scary parts on the track," says Higgins. "Even before my big moment I've always found the bottom of Bray Hill daunting. Nearly losing it last year, I'm always mindful of it going through there.
"It's flat out in the car and there's a compression right at the bottom followed by a bump – that's the reason we had the slide through there. The car bottomed out and the wheel arch kissed the tyre sending it sideways."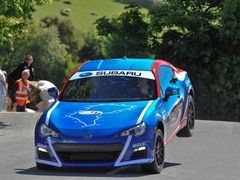 No less drama, despite Impreza power deficit
He continues, "It was a full hands off the wheel job to catch it. I was using one and a half turns of lock one way and the same the next. You have to look at where you want to go – if you look at something, that's where you tend to end up. If we'd have hit anything it would have been a huge shunt."
Even though Higgins was born on the island, he says it took him countless laps over years to properly learn the course, and that with every tour he's still learning. There's no hope for me then.
Sat on the start line of the 37.73-mile TT mountain course, ready to follow Higgins round the Manxman's back yard, I'm glad he'll be lapping at a much reduced pace.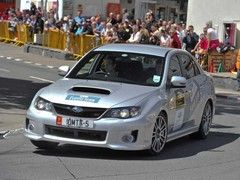 Sean gets to grips with the TT on four wheels
I'm in a Subaru WRX STI 320R and it's nigh on the perfect car for the circuit. The stonking mid-range and security from the four-wheel drive system lets you use liberal amounts of throttle on the many blind exits around the lap. It's forgiving, too. Through high speed direction changes the car rolls and turn-in isn't as precise as you'd like, but it's well suited to the TT course – not overly stiff and with plenty of grip.
Two successful laps completed, including putting clear daylight between the Subaru's tyres and the tarmac at Ballaugh Bridge, I can go away pleased. Having driven the Nurburgring with BMW's M driver training (watch out for that one on PH soon), to me at least, the mountain course is a more relentless, more challenging and scarier proposition altogether.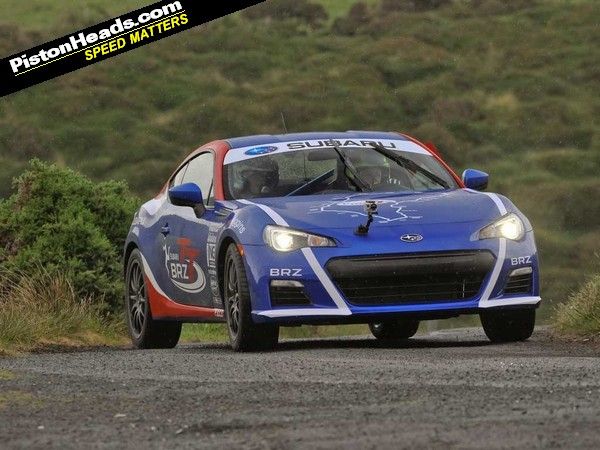 Day two
While day one was just a leisurely jaunt round the course, for Higgins, day two is where he can really show how it's done. With a switch to
Subaru's new BRZ
, closed roads, a professional rally driver and miserable conditions I'm in for a more representative ride of what he and a well prepared car can do.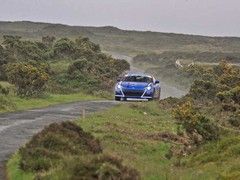 RWD or not it's still a Subaru!
Strapping myself in next to Higgins I'm excited to see just how a quick a properly piloted car can demolish what he rates as "probably the bumpiest bit of road on the island."
His BRZ isn't quite standard, however. It's been lightly breathed on and has new wheels and tyres – junking the Toyota Prius OEM hoops – as well as some trick three-way adjustable dampers and removal of most of the car's interior.
To the uninitiated co-driver like me, it seems quick. He's a racer first and foremost and it's his job to not just push the envelope, but lick the stamp, write the address and drop it in the post box. So when we set off down the greasy wet stage seemingly no wider than a BRZ, Higgins candid comment of "I only usually crash in fifth or sixth gear anyway" is ringing in my securely buckled crash hat.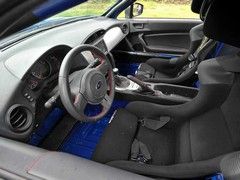 Car is more or less standard
He's been tweaking the car's set up all day and reckons he's somewhere near now – even as a passenger you can feel the difference in how the chassis reacts. A little more compression damping on the rear to stop it bottoming out keeps it more stable over the appalling surface, asking a little less of Higgins' awesome car control.
"This must feel slow to you though?" I ask him. "Yeah, it does. All I need now is another 200hp," he replies. Rally drivers, hey…