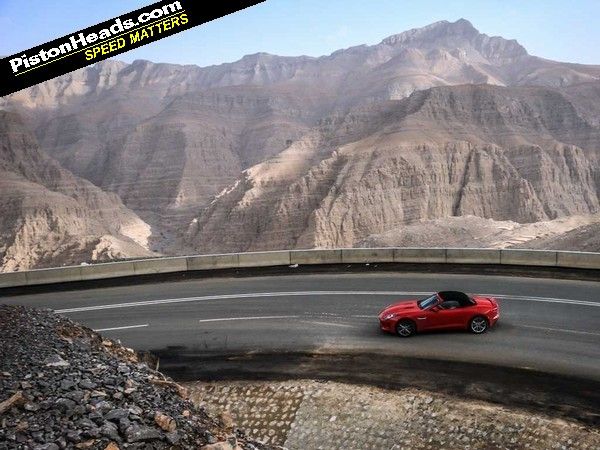 Name:
Dale Lomas
Where:
Jebel Jais Mountain, United Arab Emirates
Car used:
Jaguar F-type V6 S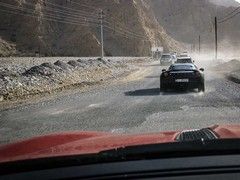 Hang on, wasn't the dune bashing in 4x4s?
The route:
"Resting like the proverbial diamond in the dirt is this, the Jebel Jais Mountain Road. Even in a small, car-loving country like the United Arab Emirates, its existence remains largely unknown. And yet it's one of the finest, and oddest, driving roads in the whole world.
"Leaving the city emirate of Ras Al Khaimah, you head into the dramatic mountains that mark the border with Oman. You'll pass a hostile-looking high-security prison and the road will get progressively worse. Speed bumps, pot holes and even rock-strewn dry fords.Eventually, just as you question your own sanity in bringing a sports car this far down such an obviously terrible road, you will hit a very modern, very well-surfaced roundabout.
"And that's where the real fun begins!"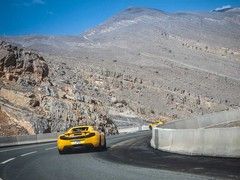 Typical traffic on this petrolheads' dream tarmac
Why it's a dream drive:
"Firstly, this whole road, from the start to the curious dead-end at the top, is absolutely perfectly surfaced. Without flaw. And it's massively wide. At the bottom, before the hairpins begin, you've got two generous lanes with run-off each side.
"As the climbing begins, the road turns into three lanes. Your side, their side and suicide. Beyond each side there's some black gloopy looking unfinished hard-shoulders before the concrete barriers, should you really need every last inch.
"The speed limit is so low, just 40km/h, that it's universally ignored. The locals have a tendency to either do 20km/h (often with people standing up through the sunroof for a better view of the stunning mountains) or 220km/h. Think I'm exaggerating? We were passed by three McLarens going hell for leather. It took every last scrap of driving skill I had to even hang on to the leader's coat tails.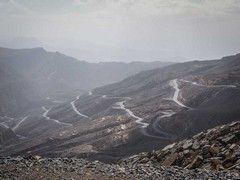 Literally the road to nowhere ... wonderful!
"Enthusiasts come from all over the Arabian peninsula to drive this road. On our day trip we saw plates from as far away as Kuwait and Saudi Arabia attached to a variety of sports cars. The majority of cars were SUVs and family sedans though.
"The hairpins are of a completely different flavor to the Alpine switchbacks you might be familiar with. The speeds are higher and there's so much space that you really can apply a racing line to most of them."
Highlights and lowlights:
"The local traffic is hard to predict at first. Until you realise that prediction is pointless. They will stop anywhere and do anything. Randomly. Sometimes parked next to the road, sometimes directly on it. In one instance on our trip a party of four SUVs blocked two out of the three lanes to have what looked like a 20-minute prayer session.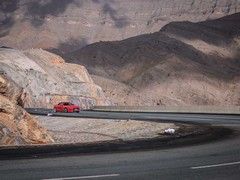 Scale of the scenery as breathtaking as driving
"Lane discipline is random. Most slower vehicles will point you by, but don't be surprised if they brake and move into the central lane to allow it. That happened twice on my three ascents.
"Drive your own car and don't rely on anybody else to do (or not do) anything."
Sights, stop-offs and diversions:
"Everywhere you look is a beautiful sight. The mountains are utterly desolate, but achingly beautiful. Every angle is a masterpiece in ochre, desert shades. The weather is typically 10-15 degrees Celsius lower than in the cities, so it makes a great retreat from the summer heat.
"There are a couple of official parking places as you make the ascent, each with a viewing point.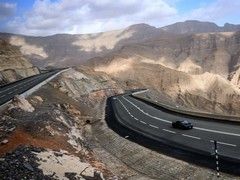 One day this will be a ski resort, apparently
"At the top there's a concrete barrier, though many of the other visitors in SUVs and even Evos and Imprezas continued on the unfinished gravel road to the top. And what's at the summit of this spectacular road? Nothing right now, but in the ultimate display of Emirates one-upmanship, it will soon an outdoor skiing resort.
"I'm not kidding. Dubai has an indoor ski resort, and Ras Al Khaimah wants an outdoor one. The slope will be refrigerated from underground and snow blowers will blast it with snow. Will it stick? I have no idea, but the official line is that it's snowed here twice in the new millennium (2004 and 2009) so nothing is impossible."
Photos: Dale/Sam North
Vid of a Jag up Jebel Jais Mountain by someone with a bigger budget than PH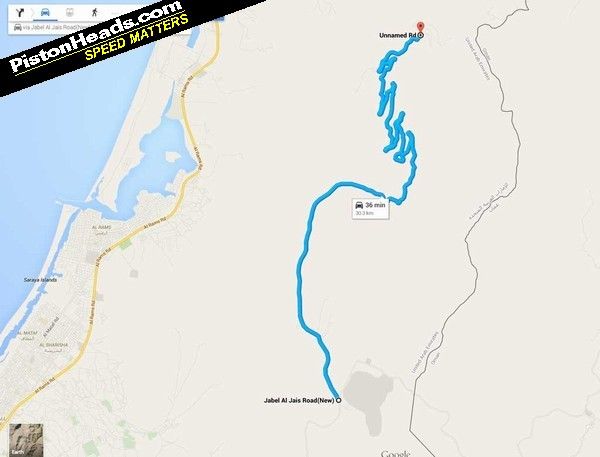 ---
PH in Dubai:
The track day
Dune bashing
Pic Of The Week
Ferrari 458 Challenge vs McLaren 12C Sprint with Dragon Racing
The GT3 showdown

---

[Sources: Jaguar Middle East/North Africa, via YouTube]