Thursday 12th May 2011
Driven: Mercedes W123. With An S-Class V8...
PHer Chris Small tries out a remarkably stealthy Mercedes that, were it for sale, could well be 'shed of the decade'
---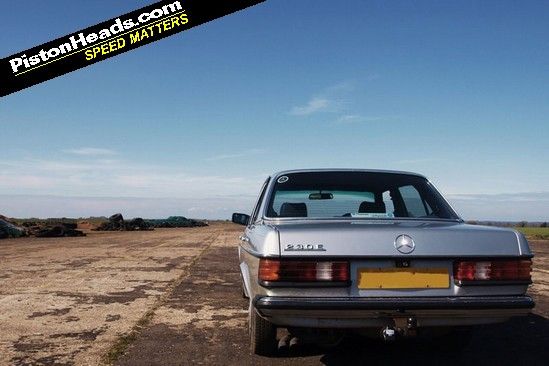 I've always had a bit of soft spot for the old W123 Mercedes. My late Grandfather used to have a tractor-powered, black 300D. It was possibly the slowest thing on earth, but he'd owned it from new and it was in immaculate condition. As a child I'd stand back in awe as its stately like coachwork rolled into view, three-pointed gunsight glistening in the sun. It would also, of course, be accompanied by a massive cloud of black smoke and a Massey Ferguson-esque clatter. But enough of this somewhat rose-tinted memory, the W123 I've been invited to drive today, is a whole different kettle of crabs.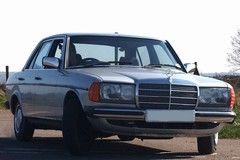 This particular 1984 230E isn't a bad example of what you can pick up these days for not a lot of beans. Granted, the silver bodywork isn't necessarily all the same shade and the blue velour interior brings back vivid memories of the decade that taste forgot, but all in all she's a straight old girl. The original dealer sticker and M-B owners club badge in the rear windscreen suggests that it's probably had a good life and has no doubt been periodically pampered by its previous owners. However, this car now harbours a remarkably well hidden secret, for lurking under the bonnet of this unassuming Merc is not the stock 2.3-litre four-pot motor, but a 5.0 V8 ripped out of an S-class. I kid you not.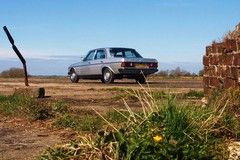 Joint owners Adrian Mounter & Rob Parker explain: "We bought an old 500SEL as bit of a restoration project, but bodily it was too far gone, so it just sat in the corner of our yard looking sorry for itself. There was nothing wrong with the oily bits and we'd heard of people doing V8 conversions on W123s before, so we decided to hunt down a decent example that would fit the bill." The thing is, unlike other modified motors, this car gives no external clue whatsoever of the grunt that lies beneath. It's even running on its original steel wheels, complete with painted hubcaps.
The second you turn the key, you're greeted by the aural pleasure that can only be provided by a 5.0-litre V8 running through an exhaust with only one silencer in it. From the outside you may not be able to visually tell that something's a bit different, but if you know anything about cars you'll soon realise that all is not what it seems when you hear it.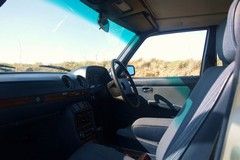 As you engage drive on three-speed auto 'box it feels like the brakes won't be able to hold it, such is the eagerness of the engine to get going. The slightest dab on the throttle and it lurches forward with a pleasing chirp from those skinny tyres. This is an issue that Adrian is well aware of; "Yeah, the tyres are a bit of a problem actually. We wanted the car to be as stealthy as possible, but if you put your foot in at the lights it will just sit there in a cloud of its own tyre smoke."
This was something that I obviously had to try. And I can indeed vouch for the fact that traction is this car's most serious weak point. But bury your right foot once you're rolling and the acceleration can only be described as addictively comical. The surge of power is both effortless and insane.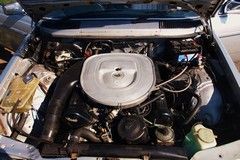 The other major flaw is the handing, or rather the lack thereof. If oversteer-induced powerslides are your thing, then you need one of these in your life. It will go sideways and paint pretty black lines all over the road until you get bored or blowout a tyre, but that is just a coincidental by-product of making no modifications to the suspension. Uncharacteristic straight-line thrust is what this car is all about.
Make no mistake, it's very much a one-trick pony, but what a fantastic trick it is. The lads have yet to have their first run-in with a Corsa or a Saxo, but I have no doubt that much hilarity will ensue when the opportunity eventually arises.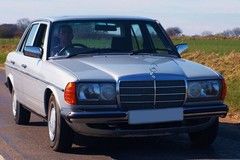 The other thing you notice after driving this hormone-treated old girl around for a while is that, even though it has undergone some pretty invasive surgery, it still drives just as well as any other W123 I've driven. Once I'd left the un-policed joys of the airfield behind and headed into town, the car still demonstrated some impeccable road manners. It's easy to drive, rides well and everything still feels as solid as it did when it rolled out the factory. I guess that just proves testament to what a good car it was in its day and, to be fair, still is.
The final surprise comes when I ask how much this car has actually cost them. "All in, we reckon it owes us about a grand," they tell me. Now if that isn't a contender for SOTW top trumps, I don't know what is...

Pics: Joe Taylor
Gassing Station | General Gassing | Top of Page | What's New | My Stuff