Friday 27th May 2011
Pic Of The Week: Jenson At Monaco
Rejoice - F1 returns to its spiritual heartland
---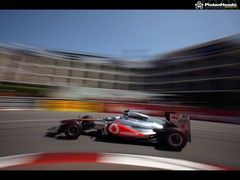 Click to preview
If you looked at it with a cold head and a hard heart, it would be easy to conclude that the Monaco GP (happening this very weekend) is an outdated anachronism that doesn't fit in with 21st century Formula One.
And yet...after a series of races on sparkly new but all too clinical racetracks in far flung corners of the globe, the return of the F1 circus to the little principality on the Med feels like F1 coming home (of course it is home to a large portion of the F1 field).
The unique challenge of negotiating those tricky city streets is also what makes victory in the Monaco GP one of the most coveted prizes in world motorsport, right up there with Le Mans or the Indy 500.
So to celebrate F1 coming back to Monte Carlo, here's Jenson Button negotiating the distinctive Loew's Hairpin - pretty much the slowest corner in F1. Here's hoping he and Lewis can start to reel in that pesky German Vettel this weekend...
Normal (1280x1024)
WideScreen (1440x900)
SuperSize (2048x1536)
---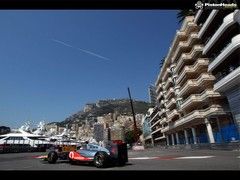 Click to preview
Update: Due to (un)popular demand (there was mild disgruntlement in some quarters about the general fuzziness of the original image) we've decided to lob in a bonus POTW (right).
This still evokes the atmosphere and spirit of the Monaco GP (we hope) but this time does so with a greater degree of focus.
Now don't say we never do anything for you...
Normal (1280x1024)
WideScreen (1440x900)
SuperSize (2048x1536)
Gassing Station | General Gassing | Top of Page | What's New | My Stuff