Friday 1st July 2011
SOTW: Fiat Tipo 2.0ie 16v
Italian? Check. Rare? Check. Beautiful? Er...
---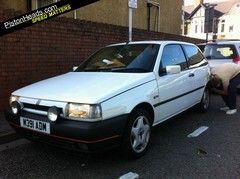 The Italians are a lucky people. They are blessed with a language that, at least in comparison with our harsh Anglo Saxon tongue, can make the mundane sound impossibly exotic. Think Quattroporte (lit. four-door) and you'll see what I mean.
It's the same with today's Shed of the week: Fiat Tipo 2.0ie Sedicivalvole sounds genuinely exciting. And yet the English transliteration, 'Fiat Type 2.0ie 16-valve', doesn't even make a great deal of sense as well as sounding rubbish.
But it's not only that - the Tipo Sedicivalvole is quite a rare beastie these days, with only a handful of cars registered in the UK still on the road. So it's Italian, exotic-sounding, and rare. Shame it looks, even if we're being as polite as possible, a bit boxy.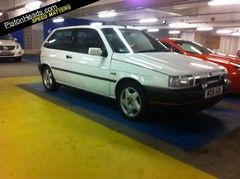 Fortunately, the Tipo Sedici has quite a bit going for it, in as much it was considered to be quite a fun steer in its day and, with 143bhp on hand courtesy of an engine borrowed from the Lancia Thema, is quite fleet of foot even today, with 0-60mph dealt with in a respectable eight-and-a-bit seconds and a 130mph top speed.
This particularly Tip Sed looks somewhat less Sheddy than the average SOTW, with few bodywork blemishes, a long MOT and an even longer service history file. Okay, so the electrics aren't in 100 per cent working order, but the windows and sunroof still open and close electrically, so you're part of the way there - and it wouldn't be an Italian car without some sort of electrical gremlin.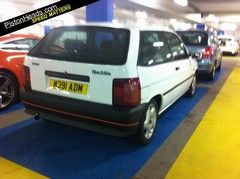 So there you go. If you want a cheap, rare, fast Italian car, get yourself a TS - if you can find one. And that's not something we ever thought we'd be writing about a Fiat Tipo...
Advert is reproduced below
Fiat Tipo 2.0 i.e. 16v Sedicivalvole (1995)
114,000 miles £995
Fiat Tipo 2.0 i.e. 16v Sedicivalvole
Unfortunately due to a change in personal terms and circumstances, I'm going to have to sell my Tipo.
After wishing for a "Sedici" for the past 10 years or so, I finally lay my hands on this one fairly recently. It's quite stunning...
The car has really been looked after and cared for with no expense spared. It comes with full comprehensive service history along with receipt after receipt. Around £800 was spent on it a couple of months ago.
Inside is absolutely immaculate. Looks as good as it did when it was brand new. Also, the body work is really good. Obviously its 16 years old so it has the odd blemish but nothing major and things that are hardly noticeable.
All tyres are good and the MOT still has around 10 months left to run. Tax expires 31st October 2011 so all you need to do is insure and drive away.
These cars are so rare nowadays and to find one in this condition was a bit of a God send however as I'm now moving houses I need all the money I can get so it has to go (I simply bought the car for a weekend toy and have another 2 cars within the household!).
I'd welcome any viewings / inspection if you're genuinely interested. Current mileage is just over 114k but may go up slightly.
Finally, all the electric windows & sunroof works. The passenger mirror doesn't but the driver's does. Central looking doesn't work either however I haven't checked any fuses as none of that has bothered me...it was bought for the amazing drive and engine noise!! Fairly new JVC cd player fitted.
Any questions then please don't hesitate to e-mail or call on - 079444477448
Gassing Station | General Gassing | Top of Page | What's New | My Stuff