Friday 5th August 2011
Pic Of The Week: Donington Historic
Mmmmm...sunset-ey sports car goodness...
---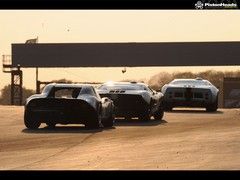 Click to preview
With POTW, we like to try and keep things topical. So why is it that this week (you may ask) we are using a picture from the inaugural Donington Historic Festival, an event that happened way back in April?
Well, quite apart from the fact that a pair of GT40s (and a car whose identity escapes us) sprinting off into the sunset is one heck of an evocative image (we reckon), the Donington Historic peeps have recently released dates for the second iteration of the festival - so keep the weekend of 5th and 6th May 2012 free. (That's when it's happening, by the way.)
In the meantime, you can always while away the months pretending it's you in one of the GT40s, racing away into the dusk...
Normal (1280x1024)
WideScreen (1440x900)
SuperSize (2048x1536)
Gassing Station | General Gassing | Top of Page | What's New | My Stuff