Friday 26th August 2011
Pic Of The Week: Audi R8 LMS GT3
No livery or logos, just the paintwork it was born with
---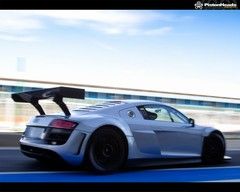 Click to preview
You don't often see a racing car without a livery and logos these days, which isn't necessarily a bad thing as fellow JPS, Gulf or Alitalia admirers will attest.
Still, it's sometimes nice to see a racing car unadulterated by the graphic excesses of commercial sponsors, as PHer TankRS pointed out earlier this week. He was commenting in the thread about Audi's GT3 spec R8 'customer racer' demo car, which some of you may have noticed we had a ride in on Monday with Allan McNish at the wheel.
LAT Photographic had a staffer on the ground at Silverstone to record the day for posterity, and this is one of their man's more artistic efforts. Worthy desktop fodder, surely?
Normal (1280x1024)
WideScreen (1440x900)
SuperSize (2048x1536)
Gassing Station | General Gassing | Top of Page | What's New | My Stuff