Friday 2nd September 2011
Pic Of The Week: E-Type And Lightning
Supersonic jet plus motoring icon equals lovely wallpaper, we reckon...
---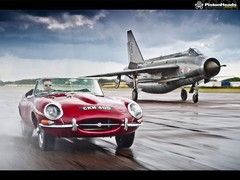 Click to preview
Today's POTW is surely something to get the small boy in every one of us dribbling and jumping up and down with excitement.
The oh-so-wonderful Jaguar E-Type and the frankly awesome English Electric Lightning have been brought together by our esteemed (and inspired) colleagues over at Classic & Sports Car magazine as part of a supplement to celebrate the Jag's 50th anniversary (and coincidentally the Lightning's half-century).
And if you think there's some sort of clever photographic tricky going on, well you're wrong - this is just man, camera, E-Type and 1500mph Cold War interceptor. Brilliant.
You can read more about this epic meeting in October's issue of C&SC, available now in all good newsagents (and probably some rubbish ones, too).
Oh and, if you don't like our choice of wallpaper, you can pop along to the Classic and Sports Car website and download their version (which is different - not better, just different) for some Jet 'n' classic car goodness...
Normal (1280x1024)
WideScreen (1440x900)
SuperSize (2048x1536)
Gassing Station | General Gassing | Top of Page | What's New | My Stuff