Friday 18th November 2011
SOTW: Peugeot 406 Coupe
Mmmmm.... Pininfarina for pin money. Tempted?
---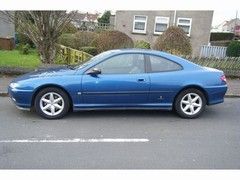 Glamorous Pininfarina lines, V6 power, room to fit three deeply impressed passengers in your cut-price coupe...what's not to like about a Shed-spec 406 coupe?
Well, ignoring the front-drive underpinnings and 406 interior (though I've always harboured an inexplicable affection for the 406 dash and squishy leather upholstery, however rubbish it might actually be), not a lot, really.
And unlike more modern coupes from mainstream manufacturers (the forthcoming Toyobaru BRZ/FT-86 being a notable exception), turn-of-the-Millennium two-doors were what you might call proper coupes, rather than the rakish hatchbacked pseudo-coupes that the likes of VW (Scirocco), Renault (Megane) and Vauxhall (GTC) have been churning out of late.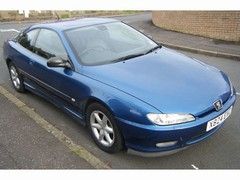 The 194bhp 3.0-litre is reputedly a lusty performer, too - better than its claimed 0-62mph time of 7.8secs and 142mph top speed suggest, some have said. And it's quite a decent handler, by all accounts, though perhaps more of a GT than a point-to-point master.
Still, that roaring-lion badge is probably going to put off as many people as it attracts (although the allure of Pininfarina might mitigate that somewhat, but if you want a sleek, comfy and moderately luxurious cruiser then you might well fall for the svelte Pug's myriad charms.
This one has done a thoroughly average 128k miles, but it looks in pretty decent nick (well, it does in the photos...) and has a whisker of tax and moderate amounts of ticket left on it. You do get plenty of kit with this one, too, including leather, heated seats, air-con and a JBL six-cd changer system.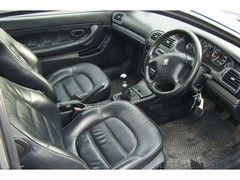 Of course, because this is Shed money, you'll also be pleased to learn that it has had a brand-new alternator, four decent tyres and a new exhaust system. And that magic Pininfarina badge...
Kudos to PHer ninos for the cracking spot...
Advert is reproduced below

Peugeot 406 Coupe 3.0 V6
£995 Irvine, North Ayrshire
'X' 2000 Peugeot 406 Coupe 3.0 V6 in Metallic Blue with superb Black Leather Interior, this is a fine example of this soon to be rare sporty classic. It has all the electric extra's including Heated Seats and Air Con and is fitted with a JBL Sound System and a 6 cd auto changer. Taxed until the end of December and Mot'd until April 7th 2012. All the tyres are good and it has recently had a new exhaust system and just had a brand new alternator fitted. I have 2 remote keys for the car.
Gassing Station | General Gassing | Top of Page | What's New | My Stuff