Tuesday 31st January 2012
PH fleet: Morgan Plus 8
Morgan meets McLaren, Harris feels surge of patriotic pride as a result
---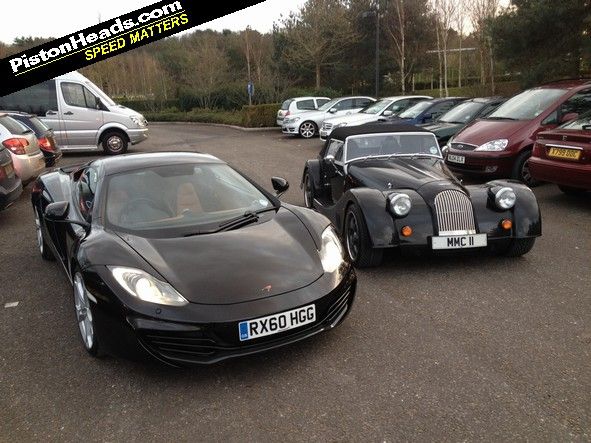 There are two canvas flaps on the
Plus 8
roof, one remains inside the door frame, the other must be hooped over the metal frame and its positioning requires some dexterity. It is worth the effort though, sandwich both inside the door-close and you invite water into the cabin - when moving or when stationary. I know this because I have tried it.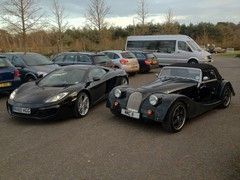 Roof down, trundling to Cardiff and back last weekend in the winter sunshine, the car was being used as intended: burbling, executing the odd burst of speed and being admired by all who saw it.
If I have one reservation right now, it's the spring rates. The car is just too stiff and it causes problems in every area of chassis dynamics. The Plus 8 is too easily deflected by bumps of any sort - in a straight line or in the middle of a turn - and working with a very fast steering rack it can make the car feel quite nervous. Of course this is a development car right now, so I will be lobbying Charles and his team to try some softer springs and dampers. I think it would make the car much more pleasant to drive.
Character study
It would also fit the character of the powertrain more closely. The BMW V8 does its best work from 3,000-5,000rpm, at which point you have the option to hang on for the full face-bender or you can retain some deportment and shift up for another woofle of exhaust noise. It's not a frenetic engine, in fact the flywheel effect is a little irritating when shifting quickly from first to second, so you enjoy the surges rather than invoke the last few rpm. Whichever method you choose, it is very, very fast.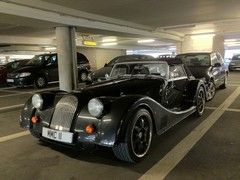 I do adore the way this car looks. It stopped traffic at Heathrow last week and, best of all, it was my transport for a visit to McLaren's HQ in Woking. Parking it next to an MP4-12C made me feel enormously proud of the UK automotive industry - and I'm not normally outwardly patriotic about such things. I wonder what Ron Dennis would make of the Morgan's timber body supports, or its roof mechanism?
The MP4-12C feels like it comes from a different dimension. It does things a Ferrari 458 cannot do, let alone the Plus 8. But in the single discipline of charm, like everything else I've driven over the past six months, it has to defer to the car from Malvern.

---
FACT SHEET
Car: 2012 Morgan Plus 8
Run by: Chris Harris
On fleet since: January 2012
Mileage: 1,680
List price new: c. £80,000
Last week at a glance: Jiggly, a bit damp at times, but huge fun
Gassing Station | General Gassing | Top of Page | What's New | My Stuff