Wednesday 7th March 2012
PH Blog: Golf GTD eight years apart
What can change in eight years? Everything and nothing it seems
---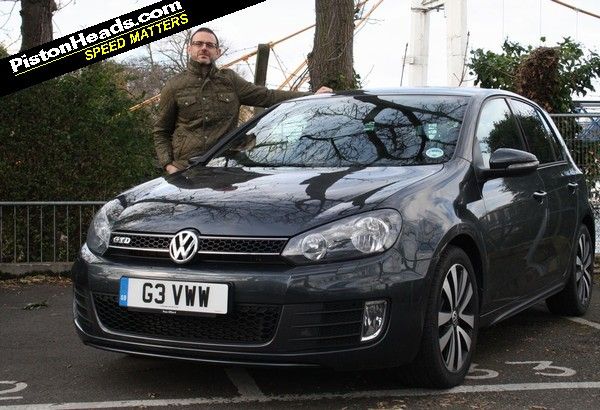 I was one of the first to get the new Mk5 Golf in the UK, and thanks to an error on the company car option list I was able to spec the 2.0 TDI GT. Soon this error was realised and colleagues had to settle for lower spec and smaller engined versions of the Golf, but my flat red (I couldn't afford any options) five-door (all that was available at launch) was delivered as promised. Being young(er) I immediately swapped the standard wheels for some 18-inch TT replica alloys and I was a happy chappy. Less than six months later I swapped back to the original wheels again, largely due to the fact that I wanted to tow a caravan ... but that's another story.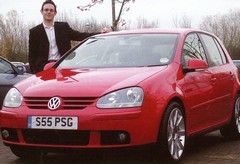 Garlick and the Golf: steady evolution
So eight years later and I am in the latest version, and as you can see we have both changed. I still feel the same inside as I did in 2004 and the same is true of the Golf - literally nothing has changed in essence bar a few trim and detail upgrades. The engine sounds the same with the familiar VW common rail diesel noise, the seats are as I remember them to be and the mpg (late 30s) is almost identical too. It's perkier, that's for sure but overall it's a very familiar experience for me, despite the passing years.  
OK so we both look a little different on the outside….The earlier Golf looks smooth and uncluttered whereas the new one is weightier and a little fussier (like me). Chrome and shiny bits are new for 2012 giving a heavier look overall (don't you dare say anything) and it looks more grown up. I think we'd all like to look a little younger and maybe the Golf would too?  
So everything changes, yet it's all very familiar. When something works well I guess there is no point in changing it. Fortunately I didn't think the same about my hair…
Garlick
Gassing Station | General Gassing | Top of Page | What's New | My Stuff