Friday 6th April 2012
Pic Of The Week: Hayabusa vs Radical
Two very different applications for Suzuki's fabulous Hayabusa engine, one very cool pic
---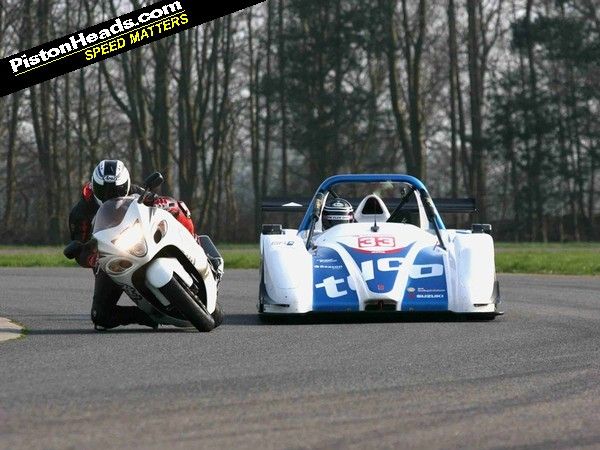 This week's Pic Of The Week celebrates the classic speed junky question of which is quicker: car or bike?
PH2's Jon Urry chose to answer the question by pitting a Suzuki Hayabusa against Radical SR3 RS. The beauty of this wee comparison is that they share the same high-revving Suzuki engine - levelling the playing field slightly. The results are somewhat unsurprising; the bike dominated the straights, while the slick-shod Radical was superior on the brakes and through corners. Both, in their own way, are hugely impressive machines.
And whether you enjoy your kicks on four or two wheels, we think you will appreciate the commitment shown by both the guys in this snapshot of their day at Bruntingthorpe.
Traditional (4:3)
Computer widescreen (16:10)
TV widescreen (16:9)
Portrait (smartphone)

Gassing Station | General Gassing | Top of Page | What's New | My Stuff