Thursday 19th April 2012
Spotted: Toyota Land Cruiser camper
Is this the ultimate go-anywhere Land Cruiser?
---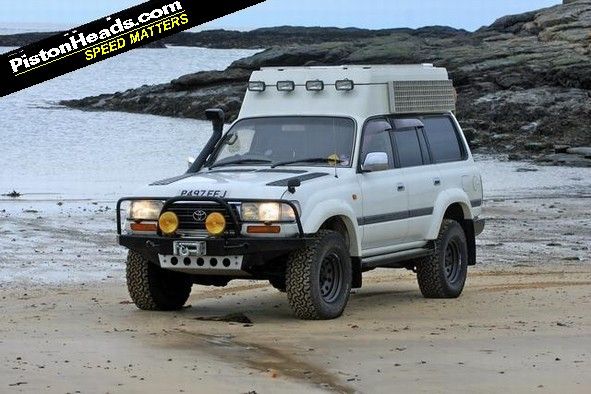 I have a slightly weird confession to make: I have a borderline-unhealthy interest in the end of the world. I'm not talking End of Days religious fanaticism, mind, I just think there's a curious romanticism to the end of civilisation as we know it and - more to the point - the struggle for survival afterwards.
You know the sort of thing: You against the world, fighting for your very existence, making things afresh and against all odds. It's probably a macho thing. It's certainly the reason I am reading 'The Mammoth Book of the End of the World' (a real title - I kid you not).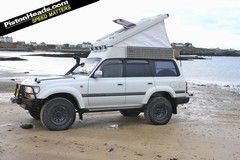 It's also the reason that I am always excited by so-called 'expeditionised' camping vehicles.
Last time
it was a Unimog
that got me going, but
this Land Cruiser
, spotted by Mr Garlick, is possibly even cooler. And probably a better vehicle with which to see through the aftermath of nuclear war/the eruption of a super-volcano/the outbreak of a deadly virus that decimates the world's population (delete disasters as desired).
How so? Well, unlike the Unimog, in a Land Cruiser you've got at least half a chance of cruising at more than 50mph, which could be crucial in order to escape those mutant bandits, while there is more than enough off-road ability in the mix, too. Especially with the addition of: a water-to-air intercooler, An extra gearbox cooler, heavy-duty front bumper with a 12,000 lb. winch, Goodridge BFG MT 285/75R16 all-terrain tyres, rock sills, a sump guard, custom stainless steel exhaust, two fog lamps, four flood lights, two rear lights and snorkel. Oh, and two sand/bridging ladders.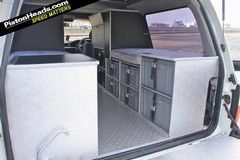 Inside, there's most of the home comforts you could want or need, including a microwave, a fridge/freezer (on a runner), a sink, a chemical toilet. And a pop-up sleeping accommodation area. Fuelling my weird apocalyptic fantasies, the vendor suggests that he and his wife picked this option rather than a roof tent as 'essentially we like the idea of being able to jump into the driving seat without having to get outside the vehicle.'
The 'Cruiser was originally built to be driven from the Cape of Good Hope to Cape Horn, but is for sale as the couple who own it say they can no longer make their planned trip. But their loss could be your gain. Especially if the world does come to an end on 21st December 2012...

---
TOYOTA LAND CRUISER
Engine: 4,164cc staight-six turbodiesel
Transmission: 5-speed manual or four-speed auto, four-wheel drive
Power (hp): 167@3,400rpm
Torque (lb ft): 280@1,400rpm
MPG: N/A 
CO2: N/A
First registered: 1997
Recorded mileage: 60,000
Yours for: £35,000
Gassing Station | General Gassing | Top of Page | What's New | My Stuff