Friday 22nd June 2012
Blood Brothers: Vauxhall VX220 vs Lotus Europa S
Follow your heart and buy a Lotus or listen to your head and go for the Vauxhall?
---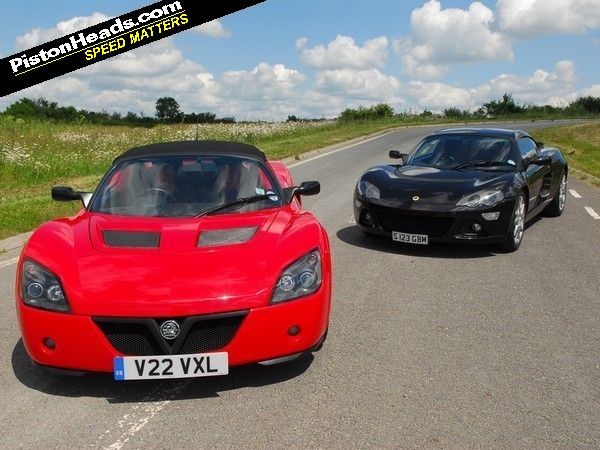 It seems hard to believe, but before the launch of Lotus's Elise in 1996, track days and track day cars didn't really exist. Well-maintained dedicated tracks were few and far between and the handful of enthusiasts who did enjoy them often did so in their own mildly-modified road cars, with just a lucky few able to savour the pleasures of more expensively procured German and Italian exotica.
But the success of that original Hethel-bred two-seater changed everything and spawned a whole host of dedicated but affordable machinery capable to taking you to and from the track, as well as around it. The choice is now almost endless, with track cars for the road, road cars for the track and even - for those with a penchant for trailers - track cars for the track.
Two of the Elise's latest descendents - the Lotus Europa S and Vauxhall's VX220 Turbo - both fulfil this brief admirably, capable of commuting and cornering with equal aplomb. And both share not just a common ancestor, but also the same remarkably capable power-plant - the Vauxhall/Opel-designed Z20LET.
Family tree
In a marriage of convenience Lotus and Vauxhall/Opel worked together to develop the series two Lotus Elise platform. More stringent European crash regulations left Lotus needing significant investment to evolve its K-Series-powered Elise into the next generation of Toyota-powered machine, and in return for providing this Vauxhall/Opel gained a GM-engined and badged equivalent - the VX220 - which sold as the Opel Speedster in the rest of Europe.
Originally launched in 2000 in 2.2-litre 147hp normally-aspirated form the VX220 Roadster was favourably received, although not always by those of a Lotus persuasion, and helped raise the profile of Vauxhall's motorsport arm - cars racing in the British Touring Car Championship used the VX brand from 2003.
Calls for a hotter version saw Vauxhall launch its £26,495 200hp 2.0-litre VX220 Turbo in 2003 offering greater performance than a Lotus Elise, for less money. With a factory-fitted manual hood, ABS brakes, a starter button, twin chrome exhaust pipes, tinted glass, a Momo steering wheel and an optional removable hard-top the VX220 Turbo breached 60mph in a Boxster-bashing 4.9 seconds, handled damn near as well as an Elise and could return 33mpg on the way back from the track. All it lacked was a legendary badge.
With the VX220 coming to the end of its life Vauxhall launched a final tweaked VXR220 version in late 2004, with power raised to 220hp and a torque peak of 210lb ft at 4,800rpm. Priced at £29,995 this last VX220 boasted even greater performance (62mph in just 4.2 seconds) sharper steering, a 10mm lower ride height, uprated brakes, stiffer dampers and different wheels. Vauxhall even offered adjustable dampers as an option for the more track-focused buyer. Just 65 of these specials were offered for sale.
Meanwhile Lotus was busy evolving its series two Elise from the 111S and 111R into the hard-top Exige and - in late 2006 - into the Europa S. Intended for those who wanted to experience that unique Lotus DNA but perceived the Elise and Exige as too raw, basic and uncompromising for everyday use the Europa S was built on a stretched version of the Elise's bonded aluminium chassis and employed a Lotus version of the 200hp Z20LET engine from the VX2220 Turbo.
Capable of touching 62mph in 5.6 seconds and priced at £32,995 the UK media's reception to the model was lukewarm, despite the car's eminent capabilities, and relatively civilised standard spec - which included the kind of 'luxuries' that VX220 and Elise owners could only dream of. We're talking comfortable seats, carpet, electric windows, a radio (this was an option on the VX220), sat nav and air-conditioning here folks.
But the model wasn't good enough for Lotus die-hards, leading to the pretty rapid release of an improved SE version with a revised suspension, enhanced braking, a £1,250 Luxury Touring Pack interior option and engine tweaks taking power to 225hp. 62mph now arrived in just 5.4 seconds and owners of existing S models could receive an equivalent performance ECU/brake upgrade kit for £1,200. But despite these efforts the Europa (which ended production in 2010) only sold in small numbers compared to its Griffin-badged sibling, with fewer than 500 cars ever produced. In contrast Vauxhall shifted around 5,000 VX220s, with close to 2,000 in turbocharged form.
| | |
| --- | --- |
| | |
Brothers in arms
Both parties gained immensely from their joint collaboration - Vauxhall's fledgling VX and VXR branding gained much-needed publicity and has since gone on to establish its place at the head of the Vauxhall family, whilst the possibility that Lotus might have had to kill off their Elise altogether in 2001 doesn't bear thinking about. Without the whole-hearted commitment from both GM and Lotus we might never have seen an Astra or Corsa VXR, an Exige or Europa S or possibly even the continued existence of Lotus sports cars.
Like brothers, the VX220 Turbo and Europa S may possess slightly different dimensions, yet share much more than just a passing resemblance. The common DNA is deep-set: both are derived from the same Elise aluminium chassis, with GRP bodywork and of course an almost identical GM turbocharged powerplant. The Europa S was even built on the same Hethel production line as the VX220 Turbo. Together these mid-engined, lightweight siblings, alongside their Elise cousin, helped to reinvigorate the early noughties sports car scene in Britain - and for that if nothing else we owe them both a debt of gratitude.
Family feud
But as in any family there have been inevitable disagreements, brooding resentments and sometimes even outright hostilities. Compared to more mundane automotive fodder both the VX220 Turbo and the Europa S can rightly claim a high PH rating - focused, highly communicative and genuinely exciting to drive almost every journey is a real treat. But there are differences.
The Vauxhall is truly hardcore, a no-frills budget supercar. It's the series two Elise Lotus should have built. To get anywhere near the same thrilling on-road experience from a small Lotus you'd need to splash out £25,000 on a 2008-on Elise SC, and an immaculate VXR220 - like the red car you see here maintained by Andrew Boddy and Terry Forder from the Vauxhall Heritage Centre - might still show the Lotus a clean pair of heels.
The Europa S on the other hand delivers 95 per cent of the same thrills but without compromising everyday comfort. OK - in terms of pampering it's a million miles away from a Porsche 911 but compared to the Vauxhall it's almost luxurious. The Lotus is easier to enter and exit, claims a more forgiving ride, boasts a six-speed rather a five-speed 'box and has a 'proper' boot, yet retains the VX220's talkative steering. And most of its performance - if you opt for an SE version, or an uprated S model like the black one you see here owned by Lotus aficionado Geoff Morgan.
Of course the pure-bred Hethel car claims greater badge kudos too, but at a price. A decent Europa S could set you back as much as eight grand more than a VX220 Turbo - and you have to question whether it's worth it, especially when the Vauxhall is faster. And easier to buy too, with many more used examples advertised for sale.
Ultimately both are genuinely special cars to drive and own, and aside from a dull low-speed resonance that flexible Z20LET engine really is a gem. But the Vauxhall is quicker, more engaging and much more affordable - in short it's more of a Lotus than the Lotus Europa.
---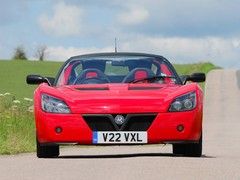 VAUXHALL VX220 TURBO
Engine:
1,998cc 4-cyl turbo
Power (hp):
200@5,500rpm (VXR220 220@6,300rpm)
Torque (lb ft):
184@1,950rpm to 5,500rpm (VXR220 210@4,800rpm)
Transmission:
5-speed manual
Kerb weight:
930kg
Top Speed:
149mph (VXR 155mph)
0-62mph:
4.9secs (VXR220 4.2secs)
MPG:
33.2 (NEDC combined)
CO2:
202g/km
Price:
£8,500 to £14,995
Manufactured:
2003-2005
Love it:
Awesome drive, no one knows what it is
Loathe it:
Need to be a contortionist to gain entry with the roof on
Spotted:2004 Vauxhall VX220 Turbo, 22,000 miles,£11,750
---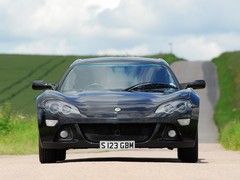 LOTUS EUROPA S
Engine:
1,998cc 4-cyl turbo
Power (hp):
200@5,400rpm (SE 225@5,600rpm)
Torque (lb ft):
201@5,000rpm (SE 221@4,000rpm)
Transmission:
6-speed manual
Kerb weight:
995kg
Top Speed:
143mph (SE 147mph)
0-62mph:
6.1secs (SE 5.4secs)
MPG:
30.4 (NEDC combined) (SE 28.8)
CO2:
220g/km (SE 229g/km)
Price:
£15,995 to £24,995
Manufactured:
2006-2010
Love it:
That unique Lotus driving experience never diminishes
Loathe it:
Harder to justify the price once you've driven a VX220 Turbo
Spotted:2006 Lotus Europa S, 42,000 miles, £19,000

---
Photos: Michael Ward
Thanks to Europa owner Geoff Morgan and Vauxhall's heritage centre
Gassing Station | General Gassing | Top of Page | What's New | My Stuff