Friday 10th August 2012
Blood Brothers: Corsa VXR vs MiTo
Not the first hot hatch pairing that comes to mind. But these two actually share more in common than you might think
---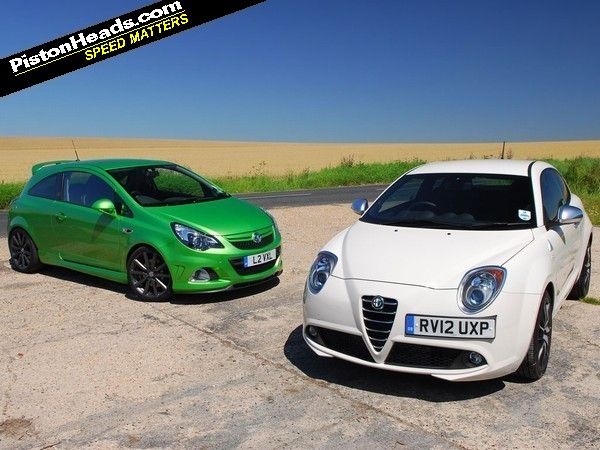 Let's be honest, the humble Vauxhall Corsa has never been a thing of beauty, not does it possess a badge that that arouses great passion in PH circles. Yet as the second best-selling car in Britain it simply cannot be ignored - especially when GM goes to such lengths to make its baby hatchback more viscerally appealing. I'm talking of course about their latest
Corsa VXR Nurburgring
pocket rocket.
Refined on the Nordschleife, it propels the Corsa VXR from pretty warm to genuinely hot hatch and has elevated the unassuming Corsa to new-found heights of celebrity. Vauxhall must be absolutely delighted. But at £22,295 this top-of-the-range VXR Nurburgring Edition has now set itself against far more illustrious opposition, leaving the significantly better value £18,910 VXR to battle it out against rivals like the MINI Cooper S, SEAT Ibiza Cupra and Alfa Romeo's MiTo Cloverleaf.
All four claim the same tried and tested approach – a turbocharged low-capacity high-efficiency motor mated to a three-door front-drive chassis. But whilst the Corsa VXR is the earthiest of the bunch, the Alfa Romeo MiTo Cloverleaf is undoubtedly the most cultured. Yet bizarrely these two share a platform in common. So what happens when these two distant cousins meet?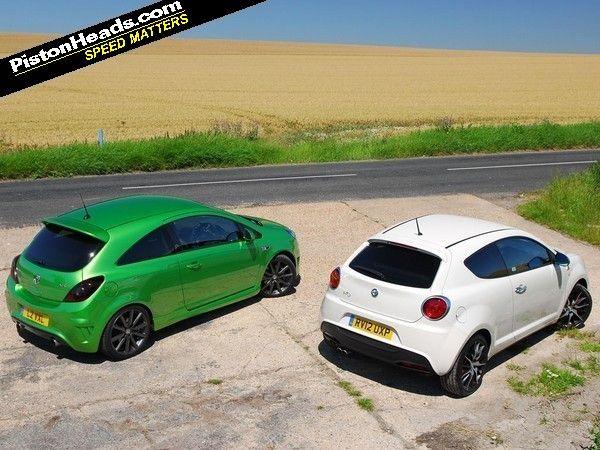 Family tree
First unleashed by Vauxhall in March 2007 the 192hp Corsa VXR follows in the footsteps of previous small hot Vauxhalls and traces its ancestry back nearly 25 years to the first Nova SR, which had in turn spawned successive high-performance GTE, GSi and SRi Corsas. With a top speed of 140mph and a sub seven-second 0-60, the three-door VXR is far hotter than any of its predecessors though - and cuts quite a dash with its aggressive bodykit, roof spoiler, triangular exhaust, blue brake calipers and 18-inch alloys. The interior too is seriously pumped up claiming shell-backed Recaros, a chunky flat-bottomed leather steering wheel, drilled alloy pedals and lashings of VXR detailing.
The 1.6-litre turbocharged engine comes with a limited overboost capability too, allowing for maximum torque whenever required and a specially tuned ESP system which optimises the brakes and power steering to the way in which the car is being driven.
Not wishing to rest on its laurels Vauxhall launched a limited edition of 500 Arctic VXRs with Glacier White paint in July 2008. Priced at £16,995 a Remus sports exhaust released an additional 15hp. A further similarly-powered £17,425 VX Racing Edition followed in February 2009 to celebrate VX Racing's success in the 2008 British Touring Car Championship, whilst Vauxhall tuners Thorney produced its own take on the Corsa VXR theme with a wild 250hp  VXR-R in April 2009. With a Quaife limited-slip differential, adjustable dampers, a Miltek sports exhaust and a liberal remap delivering 290lbs ft of torque at 4,900rpm the £22,495 Thorney version wasn't cheap – but it was fast. And if you couldn't afford the asking price it also offered a slightly detuned 220hp VXR-S for a more reasonable £18,295.
| | |
| --- | --- |
| | |
Having shown what was possible Vauxhall decided to develop its own in-house equivalent which was eventually launched as the VXR Nurburgring Edition in 2011. With greater power and torque than the standard VXR it also boasts a mechanical limited-slip differential and a specially commissioned Bilstein suspension with expensive dampers and a reduced ride height.
Uprated Brembo brakes, retuned ABS and ESC systems also help to keep the Corsa pointing in the right direction, whilst new paint colours (including Grasshopper Green you see here) unique 18-inch 225/35-shod alloys, bespoke front and rear aerodynamic bodykit, twin exhaust pipes and a splash of Nurburgring logos complete the transformation. The asking price however is a hefty £22,295, but with over 6,000 VXRs already sold in the UK it's a price some will still be happy to pay.
Just like the VXR which could claim a distant family link to successful rally and touring cars of the past, the MiTo Cloverleaf (or Quadrifoglio Verde as Alfa Romeo would prefer) also claims a soupçon of motorsport heritage with that famous green Cloverleaf symbol first appearing on successful Alfa Romeo racing cars of the 1920s.
The MiTo of course is an altogether more modern invention, not appearing in Cloverleaf guise until March 2010, but it packs a similar spec and performance to the standard VXR producing 170hp and 184lb ft of torque from its 1.4-litre turbo'd four-pot. With Dynamic, Normal and All-Weather active suspension settings available (also partly developed at the Nurburgring) the six-speed Cloverleaf is unique in its class, and also boasts with a short-throw gearbox, 18-inch alloys, Alcantara sports seats, twin chrome exhaust pipes, alloys pedals, cruise control, parking sensors, a rear spoiler and a fair splattering of Quadrifoglio Verde badges.
At £18,775 it undercuts the VXR by a negligible £135 and from July this year can be bought with the added reassurance of a five-year warranty. To date Alfa Romeo has sold over 700 UK examples in just two years.
Brothers in arms
Five years isn't a long time in automotive manufacture, as GM and Fiat discovered when their strategic alliance – created with the best of intent in March 2000 – descended into bitter acrimony and eventual collapse in 2005. But it was still long enough for both parties to collaborate on a range of ventures, the most successful of which was the creation of a joint small car platform first employed on the 2005 Fiat Grande Punto. Since then the same platform has been used on the latest Fiat Punto, the Vauxhall/Opel Corsa and the Alfa Romeo MiTo, as well as a whole range of less inspiring Fiat Group, GM, Peugeot and Citroën machinery.
Jointly developed in Turin, an evolution of this platform for the high performance Abarth Punto became the starting point for Alfa Romeo's chassis engineers with the MiTo Cloverleaf. So the same floorpan, a similar wheelbase and possibly even some shared steering, suspension and transmission components then. And the joint benefits are clear - hungry UK buyers have already snapped up nearly 15,000 MiTos with worldwide MiTo sales estimated at around 200,000. Meanwhile GM has shifted a whopping 496,112 examples of its latest Corsa D including 6,469 UK VXR models.
| | |
| --- | --- |
| | |
Family feud
In spite of their common DNA, at first glance these two hot hatches seem very different indeed. So different in fact that many wouldn't consider there to be any sort of feud between them at all. After all the distinctive MiTo Cloverleaf is both playful and elegant and boasts an historic and iconic badge. Altogether more Milan than M1 the charming MiTo plucks at your heart strings, whereas the animalistic VXR boasts a far more fundamental appeal. Aggressive and confident, the Vauxhall unashamedly revels in its car park, rather than cat walk, styling and puts a metaphorical two fingers up to haute couture. Yet in reality these two are genuine rivals, with far more similarities than the supporters of either brand would care to admit.
Nowhere is that more obvious than on the road where they are hard to split in terms of overall performance and handling, despite taking different approaches to the problem. The standard VXR and MiTo Cloverleaf are also similarly-priced and specced (although you can pick up a second-hand VXR for a lot less because it's been around for three years longer) claim similar residuals, near identical running costs and even possess equally-appealing tuning potential.
But however similar on the road (or the spec sheet) many Alfa buyers will consider the VXR simply too garish and brash, whilst some VXR aficionados will overlook the MiTo altogether. And that's a shame because although these two hot hatches come from diverse branches of the same family they are both outstanding in their own way. And that means the only real winner here is the hot-hatch buyer.

---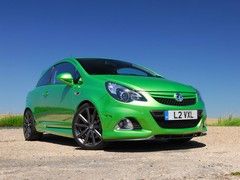 VAUXHALL CORSA VXR
Engine
: 1,598cc 4-cyl turbo
Power (hp)
: 192@5,850rpm (Nurburgring 205@5,750rpm)
Torque (lb ft):
170@1,980rpm to 5,850rpm (Nurburgring 184@2,250-5500rpm)
Transmission
: 6-speed manual
Kerb weight:
1,223kg
Top Speed
: 140mph (Nurburgring 143mph)
0-62mph:
6.8secs (Nurburgring 6.5secs)
MPG:
38.7 (NEDC combined) (Nurburgring 37.2)
CO2
: 172g/km (Nurburgring 178g/km)
Price:
£6,500 to £22,595
Manufactured:
2007-on
Love it:
It's one of the best current hot hatches to drive
Loathe it:
Draws attention - but not in a good way
Spotted: 2009 Corsa VXR, 23,000 miles, £8,750
---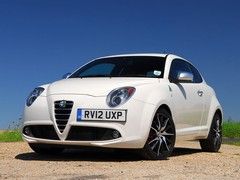 ALFA ROMEO MITO CLOVERLEAFEngine:
1,368cc 4-cyl turbo
Power (hp):
170@5,500rpm
Torque (lb ft):
184@2,500rpm
Transmission:
6-speed manual
Kerb weight:
1,145kg
Top Speed:
136mph
0-62mph:
7.5secs
MPG:
47.1 (NEDC combined)
CO2:
139g/km
Price:
£10,995 to £18,755
Manufactured:
2010-on
Love it:
Don't be fooled by the cute face – this car means business
Loathe it:
The steering is far too light in DNA 'Normal' mode
Spotted: 2010 Alfa Romeo MiTo Cloverleaf, 24,000 miles, £11,950
---
Photos: Michael Ward 
Gassing Station | General Gassing | Top of Page | What's New | My Stuff