Friday 24th August 2012
SOTW: BMW 525iX
Shed goes all-wheel drive this week in a quest for a lesser-spotted BMW
---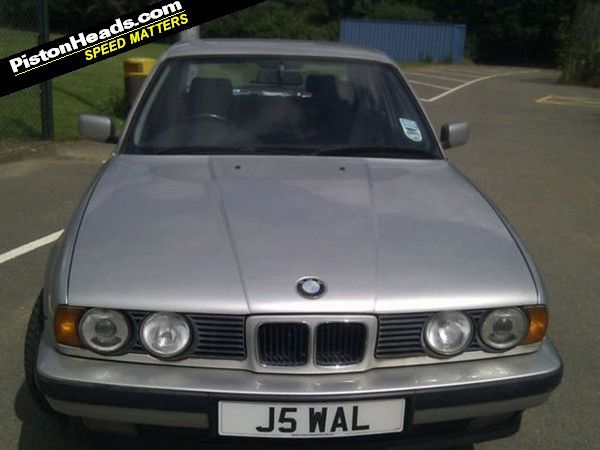 You might think Shed is stuck in the past, but you'd be wrong. Shed is borderline obsessive when it comes to keeping up with the latest automotive developments, if purely to prove that for every fancy newcomer, there's an equivalent banger bargain.
Take Jaguar's recent announcement that it is launching AWD versions of its three-litre petrol XF and XJ. When we got Jaguar to admit they wouldn't be sold in the UK, Shed immediately rummaged around in the classifieds to find an all-wheel-drive saloon that COULD be bought in the UK, and for under £1,000 too.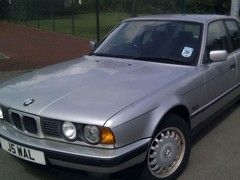 4WD Beemer saloon a rare sight
And here it is, on eBay in the end: the BMW E34 525iX. Yours for just £400, including MoT running to December. At least, that's £400 at the moment; Shed doesn't normally include auction cars, but we thought for this week we'd make an exception and, frankly, if it goes for much more than a grand you'd be surprised. At some point between its 1991 and 1996 lifespan, a paltry 283 (so our seller informs us) of these arrived in the UK in right-hand-drive form, offering executive buyers extra confidence in the form of a second set of drive shafts. According to
HowManyLeft.com
, 119 still survive.
This wasn't really the press-on machine the similarly engineered 325iX was, even with 192hp versus the 168hp in the 3 Series. The extra 90kg blunted the acceleration to 9.6 seconds 0-62mph instead of 8.6secs in the standard rear-wheel drive car, but the technology was pretty impressive.
Torque was distributed 63 per cent rear and 37 per cent to the front, a ratio arrived at by BMW based on the weight distribution under acceleration. The viscous coupling in the middle was joined by a viscous coupling at the back that was locked electronically.
Information on how this worked is hard to source, with one web expert reckoning that post-1993 cars (putting this 1993 example on the bubble) switched to a traction control system, heralding an open rear diff.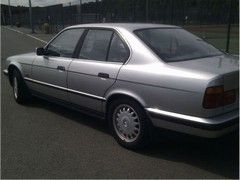 Bodywork looks tidy in this shot...
Another says that rear LSD was an option. You might want to put the car on rollers to ensure any of this still worked as it should, but the Ferguson system is meant to be reliable. What is sure is that while it's very similar to the 325iX, enough of it is bespoke to ensure it's very hard to get parts for. The wheels are unique to the X, and would clash with the suspension struts on a regular car.
This one has 121,000 on the clock, and is about as nice as you'd expect a £400 car would look (a rather nicer estate is here). Chief among its good points is an MoT and a manual gearbox. But of far greater appeal is the six-cylinder shove, a unfamiliar surefootedness in the snow and the rarity value of all-wheel drive on a brand that, until later this year when the 3 Series is handed Xdrive capability, has mostly shunned four-wheel control for its saloons and estates. at least for the UK.
Advert is reproduced below.
1993 BMW 525 IX SE 5 SERIES SILVER
GOOD POINTS
ONLY 283 RIGHT HAND DRIVE MODELS EVER MADE (AS TO MY KNOWLEDGE)
ONLY 121,000 MILES DRIVES AS NEW
MOT TILL DECEMBER 2012
TAX EXPIRED
OVERALL IN GOOD CONDITION
GREY TRIM ON SEATS
AIR CON, JUST A REFILL OF GAS NEEDED
CLASSIC CAR INSURANCE (VERY REASONABLE)
PLEASE VIEW BEFORE BIDDING TO APPRECIATE THIS WONDERFUL RARE CAR
INSTANT CLASSIC CAR STATUS AND INSURANCE
TIRES ARE IN EXCELLENT CONDITION, SPARE TIRE AVAILABLE, AND IS ALSO NEW AND ORIGINAL
NEGATIVE
AS SHOWN IN THE PICTURES, THERE A FEW SCRATCH MARKS ON THE PASSENGER DOOR (LEFT HAND SIDE), AND SOME RUST ON THE BOOT
THE REAR ELECTRIC WINDOW MOTORS SOMETIMES MALFUNCTION, AS IT HASN'T BEEN USED MUCH FOR THE LAST YEAR
GENERAL
ALL PREVIOUS MOT'S AVAILABLE FROM THE LAST 10 YEARS TO PROVE THE GENUINE MILEAGE.
SINCE IT WAS PURCHASED 7 YEARS AGO, I HAVE DROVE ONLY 12000 MILES. THIS YEAR, ONLY 50 MILES WERE DRIVEN, THIS IS WHY I AM SELLING THE CAR, AS I HAVE 2 OTHER CARS AT HOME.
OVERALL, IT IS A VERY LOVELY, AND POWERFUL, CAR,

Gassing Station | General Gassing | Top of Page | What's New | My Stuff