Thursday 13th September 2012
You Know You Want To: Honda S2000
£4,000 now gets you an early S2000. What's stopping you?
---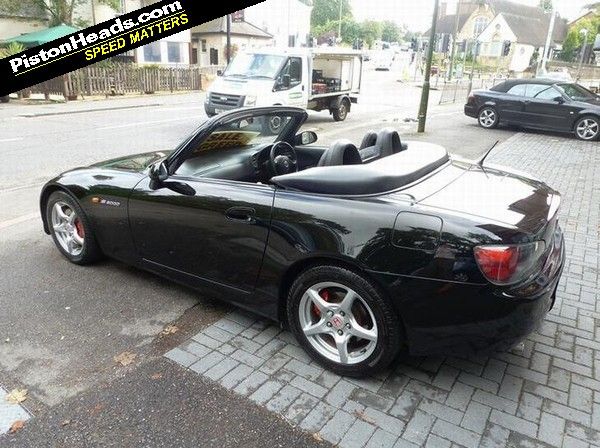 It's probably fair to say that Honda has lost its way in terms of performance cars recently. Currently there is no Type-R model on sale, the CRZ is not really the successor to the CRX we hoped it to be (where's the Mugen version gone?) and, though it continues to wow at motor shows the world over, the progress of the 'new NSX' project is slow to say the least.
As a bit of a VTEC fanboy it makes me rather sad, but the discovery of this £4k S2000, however, makes me a lot cheerier. Imagine what a Honda dealership was like in 2000; yes, a staid old Logo will have blighted your view, but the S2000 and two Type-Rs (the Integra and Accord) were available, and the NSX was presumably on offer somewhere in the dealer chain too. Now, in 2012, it's probably chock-full of Jazzes and salesman brimming with excitement at the prospect of a new CR-V. Oh joy.
An S2000 probably wasn't the best pick for a 'You Know You Want To' come to think of it. These should be about cars that are a bit of a punt, purchases that are very much high-risk and high-reward. But surely that only applies to the slightly nervous handling with an S2000? Still, let's enjoy it for what it is.
Our chosen car has a plastic rear screen which can become milky and need replacing. Annoyingly, there are no pictures of the screen in this ad to assess the quality of this one. There were a couple of recalls also relating to the seatbelts and the hood but nothing significant. Apart from that, it's all about checking the basics with an S2000; a decent service history using high quality fluids is a must and good tyres are also advisable. The numb steering and high-speed twitchiness of the S2000 won't help your confidence, so having faith in your tyres would be good...
But look at the upsides. A roadster that still looks fresh and contemporary despite being launched in the last millennium, and one of the finest engines ever to find its way into a road car, all secured with bombproof reliability. And, of course, that fantastic digital dash.
This particular car, in black with black leather, is a very subtle S2000. Being picky, I'd prefer a red one but it's got tax and an MOT, service history, some recent new parts and its four thousand pounds. And it revs to 9,000rpm! Go on, you know you want to...
Ad says: HONDA S2000
Price: £3,995
Why you should: It's an ultra-reliable, ultra-exciting roadster that's now fallen to a bargain price.
Why you shouldn't: Erm... perhaps September isn't the best time to enjoy it?

Gassing Station | General Gassing | Top of Page | What's New | My Stuff