Tuesday 18th September 2012
Koenigsegg Agera R BLT
Koenigsegg's one-off Chinese takeaway is not named after a popular sandwich
---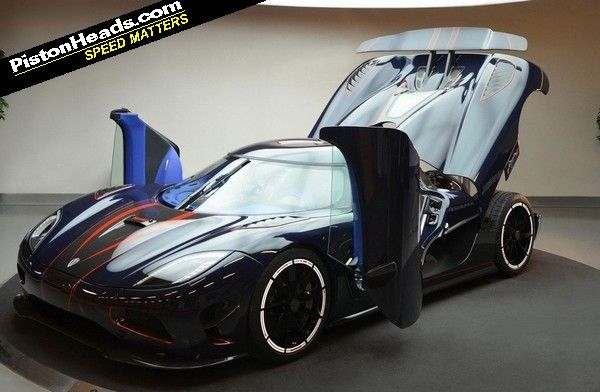 Certain words and phrases are easily assimilated into other languages. Zeitgeist, for example, works in both English and German. So does déjà vu - or maybe we're imagining that? It does seem familiar though.
Western PHers certainly require no explanation of the BLT acronym. In China, however, it has nothing to do with a deliciously assembled tower of bread, pork and salad. And that's lucky for Koenigsegg because their latest and most exclusive car, which is destined for the Far East, is called the Agera R BLT.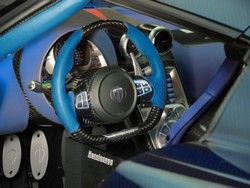 No obvious toast rack option
After the fashion of Pagani, Koenigsegg is now offering its customers potentially limitless scope for customisation. This BLT is the first off the (non) production line. Visual changes include bare carbon bodywork tinted with blue and offset with red pin-striping, a fairly restrained theme that continues inside with blue leather and carbon detailing. There are also some extras chosen by the owner, but not revealed by Koenigsegg - can you spot any? It's a fair bet that whatever you come up with has probably already been out-madded by the Swedes.
The Agera R BLT is mechanically standard, no hardship given the 1050hp/885lb ft put out by the twin-turbo 5.0-litre V8. If that's not enough, you can ramp it up to 1115hp - and that can be on E85 or E100 biofuel. With that output and a kerb weight of 1435kg (the McLaren MP4-12C weighs 1kg less), the Agera R's power-to-weight ratio is 790hp/ton. Koenigsegg claims an Agera R will sprint from 0-62mph in 2.9seconds and reach a top speed of over 261mph. At this speed, there's no room for ham-fisted steering inputs (contractual BLT joke).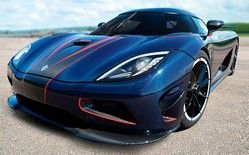 Quite subtle really for a customer car
A totally standard Agera R costs £875,000. The BLT is a one-off special. There are no details on the exact price, but (bonus joke approaching) lettuce hope it's not beyond the means of the average Lottery winner.
Gassing Station | General Gassing | Top of Page | What's New | My Stuff