Tuesday 18th September 2012
£1 million numberplate goes on sale
Let's hope they get it centred up a bit better
---
The £1 million number plate has gone up for sale, 99 years after it was first allocated to a prehistoric PHer.
The X1 plate is being advertised for sale by Regtransfers, and McLaren may have the ideal customer for it - the owner of the one-off X-1. Given the car's rumoured price tag of 'well into seven figures', they could probably afford it, too.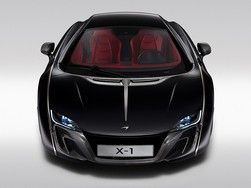 McLaren's X-1 would be the obvious choice...
That £1 million price tag will stand for the next few weeks: if it doesn't sell by then, it'll go up for auction and most likely confirm its status as the UK's most expensive private plate. The current record is £440,000 for F1, paid by Bradford businessman (and well-known vehicle tuner) Afzal Kahn in 2008. With transfer and auction fees, he ended up paying £500k all told. He was apparently offered £5m for it in 2010, but turned it down.
Northumberland City Council first issued the X1 registration in 1903 to, it seems, one of the UK's first PHers, a doughty chap who was given the plate in recognition of his efforts in overturning the 'red flag' Locomotive Act legislation and removing the UK's paltry 4mph speed limit. He was part of a committee based in Tynemouth, other members of which were given the successive plates X2-X5. Was it foresightedness that saw them leave out X6?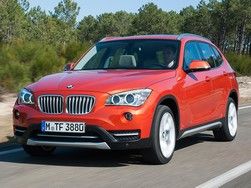 ...this X1 perhaps being less obvious
Whether the X-1's owner will take up the plate remains to be seen. Rumour has it he/she is based in the Middle East, and as such might not be interested. In which case, any well-heeled BMW X1 owner who fancies inflating the price of their car by 40 times knows where to apply.
Gassing Station | General Gassing | Top of Page | What's New | My Stuff