Tuesday 18th September 2012
DMC Lamborghini Aventador LP900-4
Lamborghini Aventador too slow and too subtle for you? Let DMC help
---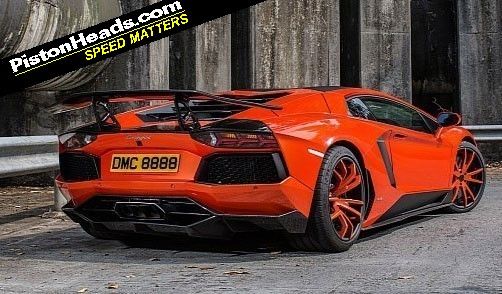 By some accounts, the Lamborghini Aventador LP700-4 isn't perfect. There have been grumbles about the harshness of the single-clutch ISR gearbox. Others have found too much understeer at the limit.
Problems, problems.
It certainly hasn't, however, been found wanting for power. 700hp and 509 lb ft in a car with a claimed kerbweight of 1575kg equals 451hp/ton, 0-62mph in 2.9seconds and 217mph flat out. Quick enough for most.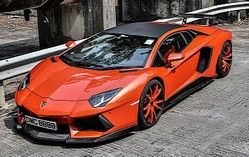 Bargain Veyron Sport alternative?
German tuner DMC is clearly not most. Their latest creation, a styling and performance package for the Aventador, is the LP-900 Molto Veloce (literally, very fast).
As with the standard car, the numbers relate to the power output. Yes, the DMC Aventador has 900hp, notably achieved without any kind of forced induction. Instead, DMC completely rebuilds the valvetrain of the 6.5-litre V12, adding individual intake throttle plates and replacing the fuel pump, lines and injectors. The engine management electronics have also been completely revised. A new titanium exhaust system weighing just 3.4kg finishes the mechanical mods. The cost of that little lot: 80,000 euros (£64,500).
On top of that you have the DMC styling package, just in case you feel you're not attracting enough stares with your regular Aventador. The 19,500-euro (£15,700) bodykit comprises a new front splitter, side skirts, rear diffuser and wing, all in carbon fibre. The wheels are another 8000 euros (£6400).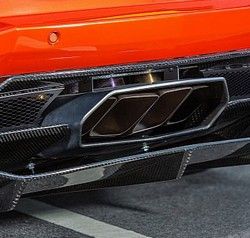 Titanium exhaust weighs just 3.4kg
Not spent enough yet? An interior package is on offer at nearly 18,000 euros (£14,500). No images available for this particular upgrade, implying it might be even more 'unique' than the outside.
DMC will bundle up the total Molto Veloce package, with all the performance and styling upgrades, for 125,000 euros (£100,000). Insert your own Run DMC joke here.
Gassing Station | General Gassing | Top of Page | What's New | My Stuff