Wednesday 19th September 2012
Lexus LF-CC concept
Striking RWD junior exec set to take on 3 Series
---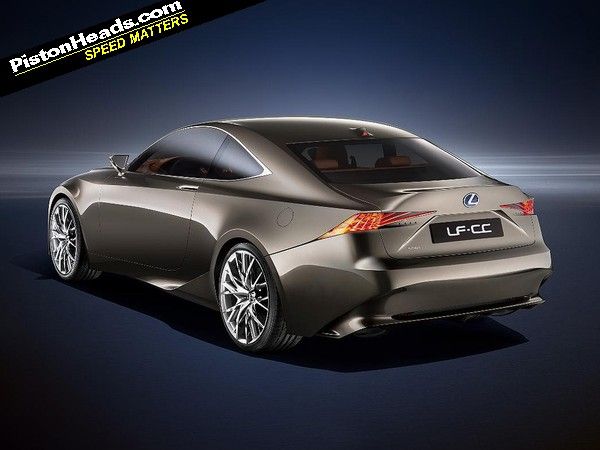 Lexus will show a thinly disguised version of next year's all-new 3 Series challenger at the Paris Motor Show – and is signalling its emboldened intent by showcasing the first-ever coupe variant.
The LF-CC concept previews the IS coupe and demonstrates a further evolution of Lexus' L-finesse design language. This should see it gain one of the most dramatic front ends in the junior executive sector, if the concept's spindle grille is any measure.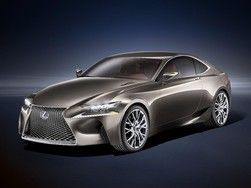 Lexus designers are starting to have fun
It's a striking car, with a classic fastback-style (370Z-style?) coupe rear and some taut, nicely stretched surfaces throughout. Particularly notable is the huge bonnet area, free from fuss, a characteristic that's carried through elsewhere: it makes for a powerful side profile, with muscular wheelarches and strong shoulders. Even that huge spindle grille is confidently minimised, meaning the busiest area of the car is the rear. As with the clever headlights, rear lights are deeply integrated into the feature lines of the LF-CC. 
The firm hasn't shown us the interior yet, but again reckons it demonstrates future design thinking. This splits the dash into upper 'Display Zone' and lower 'Operation Zone', it tells us. Hopefully, the new-design touch tracer display for remote control of vehicle systems will be less infuriating to use than the current mouse-style controller.
A more encouraging sign of intent is Lexus' claim that it will be a sporting, driver-focused cockpit, one that's "snug and focused". We'll find out at Paris.
More encouraging still is Lexus' confirmation that it will retain a rear-wheel drive platform. This is believed to be an evolution of the new GS chassis: it will, in turn, share the new full hybrid powertrain Lexus is debuting beneath the LS-CC concept.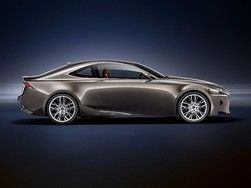 Sculpted, rear-wheel drive, 65mpg...hmm
It's quite some setup. Using a 2.5-litre V6 petrol mated to a high-output electric motor, Lexus is targeting sub-100g/km CO2 emissions and thus average economy of around 65mpg. The engine runs the Atkinson cycle and features direct fuel injection, while the hybrid setup also has a power-split device and a compact power control unit. There's no word yet on whether the "high-performance" battery is lithium ion.
Expect next year's IS saloon to be a more sober derivative of this car, but don't rule out a coupe variant taking the concept's looks pretty faithfully to production (eradicating the current, woeful IS-C coupe-convertible in the process). Toyota boss Akio Toyoda is determined Lexus will stop drifting and focus its attack on BMW and Audi. If variants of this can sharpen its attack on the 3 Series, 4 Series, A4 and A5, he may just be on to something.
Gassing Station | General Gassing | Top of Page | What's New | My Stuff