Thursday 20th September 2012
Porsche 918 Spyder: leaked details
Customer brochure reveals all on Porsche hybrid supercar
---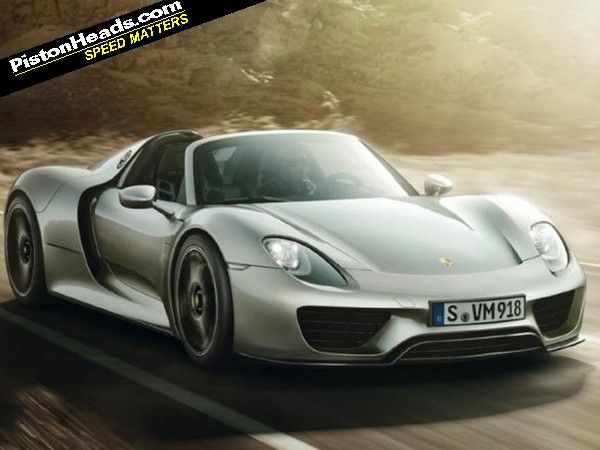 Hot on the heels of the first official McLaren P1 images, leaked details have now emerged of its Stuttgart rival, the Porsche 918 Spyder.
Sourced from a customer brochure, the information makes for fascinating reading. The hybrid powertrain makes a total of 800hp, with the 4.6-litre V8 combustion engine providing 580hp at 9,000rpm. The combined torque output is 627lb ft, produced at 2,500rpm, with 516lb ft available up to 7,000rpm.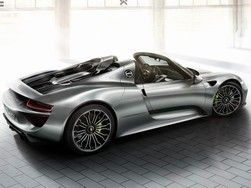 580hp and 94mpg, not at the same time
As you would expect, this power produces some phenomenal acceleration figures. The claimed 0-62mph time is three seconds, and Porsche is stating a 0-200km/h (0-124mph) of eight seconds. For reference, the Carrera GT, predecessor to the 918 Spyder, takes 10.7 seconds for the same test.
The cherry on top of this (very appealing) cake is a combined fuel consumption figure of 94mpg. No, that figure doesn't need a decimal point. It appears the combustion engine is not used for the majority of testing, contributing to such an amazing figure. Though matching 94mpg in real-world driving may be difficult, it certainly augurs fantastically for a raft of more efficient supercars.
The downside? All the hybrid gubbins do add weight. The kerb weight of the 918 Spyder is 1,660kg. The Carrera GT weighed 1,380kg. Moreover, the McLaren P1 and Ferrari Enzo successor will be significantly lighter.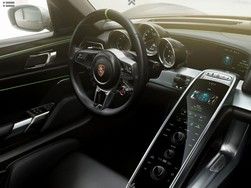 A vista of maximum satisfaction
The options list of the 918 Spyder is, as you would expect of Porsche, full of suitably lavish extras. Not only can you have a Martini wrap applied to your 918, a 10 layer Liquid Metal Grey or Blue can be applied for a cost of 50,000 Euros. A 'Weissach Package', which reduces the kerb weight by 35kg through deleting the air conditioning and some interior trim, will also be available.
Of course, looks are subjective, but both the inside and outside of the 918 Spyder look fantastic to these eyes. The front headlights look a little glum but from the rear ¾ it seems a great design. The current Porsche interior layout, with a prominent centre stack, is carried over to the 918 but with what appears to be a touchscreen.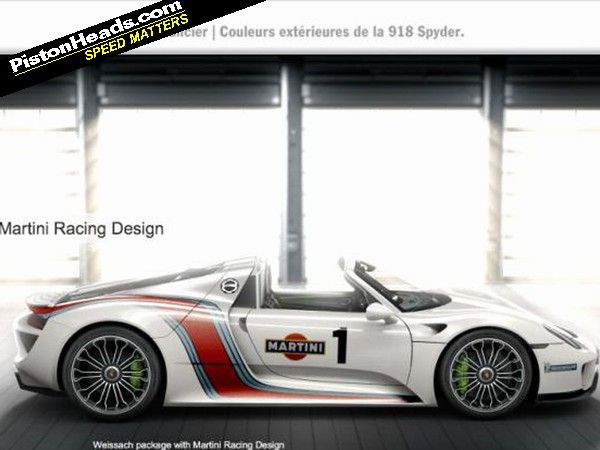 Try a taste of Martini
Gassing Station | General Gassing | Top of Page | What's New | My Stuff