Thursday 27th September 2012
Paris 2012: Volkswagen Golf GTI concept
If it's a concept where are the gullwing doors and jet packs then? Oh. It's not.
---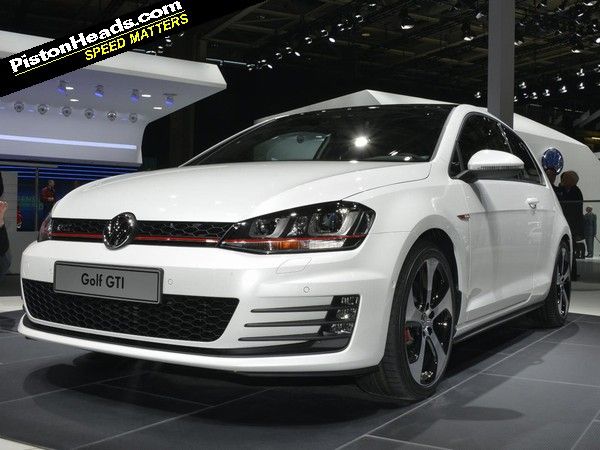 Volkswagen is officially calling it a concept, but then it's also saying that this Golf GTI will go on sale in Europe early next year, arriving in the UK next summer.
It's still a 2.0-litre turbo, running a development of the EA888 direct-injection turbo engine (plus manual or DSG gearboxes), but producing 10hp more with a new output of 220hp. More interesting still, Volkswagen has also confirmed a 'performance pack' version, boosting power to 230hp.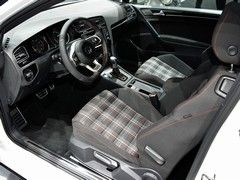 Plaid interior? Check...
How fast is it? The standard 220hp car takes 6.6 seconds to reach 62mph from a standstill, with the 230hp performance pack cutting 0.1sec from this and hoisting the top speed to 155mph.
More significantly, the performance pack model also gets 17-inch front discs, an inch larger than standard, plus a development of VW's active front diff which engineering chief Dr Ulrich Hackenberg confirmed will significantly reduce understeer. VW calls it VAQ.
How potent is the performance pack variant? Well, it's already been timed at 13 seconds quicker than the standard car around the Nurburgring. What was that about it being a mere concept again? Alas, VW hasn't yet confirmed how the performance pack cars will be branded. We like the press pack suggestion of 'stage 1' and 'stage 2' though…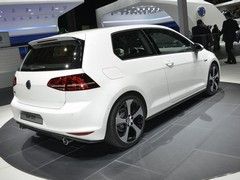 The world's least futuristic concept car...
More sensibly, the Golf GTI is a more easily justifiable hot hatch, thanks to a big jump in fuel efficiency. The standard model averages 47.1mpg and emits just 140g/km CO2 – huge improvements on the current car which has been criticised for its thirst relative to newer rivals.
And the looks? Well, it's a Golf GTI. You'll know how it looks without even seeing it. Still, the Mk5-led differentiation continues here with plenty of GTI addenda, although we're not quite sure about the extended red stripe on the headlights. OK, it references the wide grille of Mk 1 and 2 GTIs, but also looks a bit… odd.
Good job the rest of the car is so on the money.
Gassing Station | General Gassing | Top of Page | What's New | My Stuff