Friday 28th September 2012
Paris 2012: Honda CR-Z, now almost sporty
Hybrid coupe gets a small but welcome power boost for '13 - and some new colours...
---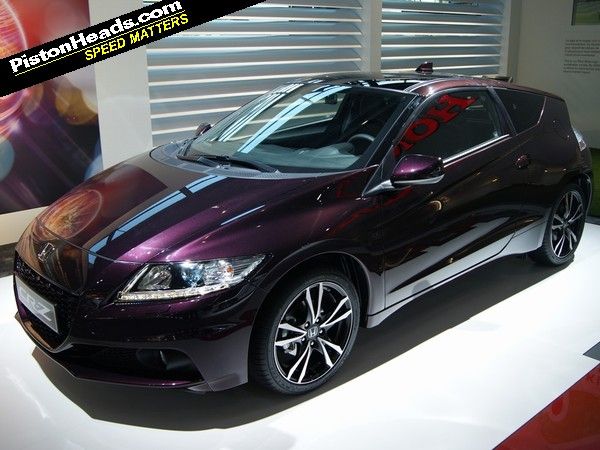 With twin-cam engines having been around as long as they have, the 1.5 SOHC unit in Honda's CR-Z hybrid coupé has always seemed rather quaint. Honda's characterisation of the CR-Z as 'sporty' rather than 'sporting' tells you all you need to know about a nearly-car that's always had decent reviews, but with a caveat – namely, if it's fast you're after, try elsewhere.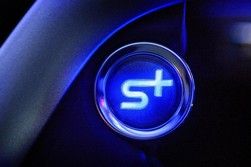 Make it so, Mr Data
Honda seems to have acknowledged this with the appearance at Paris of an upgraded CR-Z. Its new combined petrol engine/electric motor output of 137hp is unlikely to set even petrol-soaked trousers on fire, but the bump-up from 124hp is welcome and should at least give this sweet-looking coupe a decent feeling of 'sportingness' (new word alert).
That old-school single-cam lump has had its valve timing fettled, hoisting the output from 114hp to 121hp. The electric motor now pumps out 20hp and gets its juice from a Lithium Ion battery for the first time, which as any fool who has used a drill will know is always the best choice. The battery has a Plus Sport (S+) boost function for loosening particularly awkward screws. With at least 50 per cent charge on board you can press a button to 'engage warp drive', giving increased acceleration for up to 10 seconds. A bit like KERS, then, only not quite as exciting.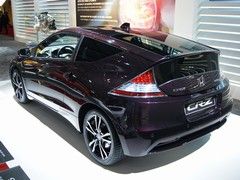 Moody snaps tone down the ultra-violet
We know that 121hp and 20hp don't equal 137hp. It's the magic of hybridity and Integrated Motor Assist. More importantly, torque is up 23lb ft to 140lb ft. All this means the 0-62 time comes down from 9.7 to 9.0 seconds, still not exactly face-distorting but at least going in the right direction. Top speed is 124mph, with unchanged combined consumption and CO2 figures of 56.5 mpg and 116g/km, giving it some company car appeal for those with flexy-choice.
So that folk know you're humming around in the latest model, there are styling revisions inside and especially outside, where you've got a new front bumper, grille, rear diffuser, new 17-inch alloys, and a couple of new colours, Aurora Violet as you see here, and the no doubt equally sudden Energetic Yellow.
The revised CR-Z goes on sale in the UK in January 2013.
Gassing Station | General Gassing | Top of Page | What's New | My Stuff