Monday 1st October 2012
Wheel clamping: RIP
Farewell then, cowboy clampers - your power to boil our proverbial in industrial quantities has now been stripped
---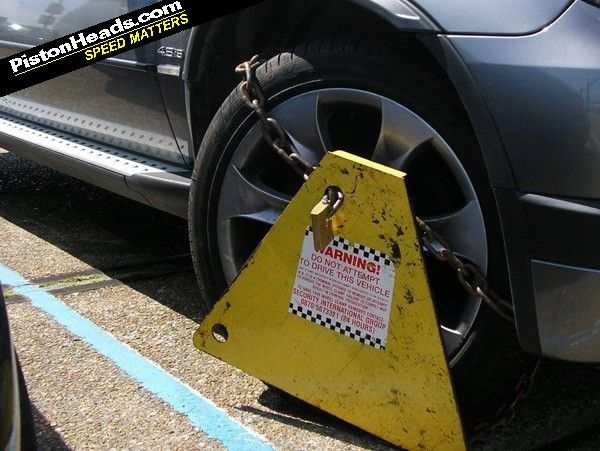 A new ban that came into force today means it'll be illegal to clamp, tow away or immobilise a vehicle on private land without lawful authority.
There is a small loophole in that "bodies acting in accordance with statutory or other powers" working for the likes of railway stations or airports can still clamp your car, but the blanket powers that generated stories about clamped hearses, police vehicles, AA vans and cars with the engine still running have been removed.
Owners of private land will still be able to issue penalties and now have the powers to install ticket machines to raise revenue.
But in a second victory for the driver, we can now challenge penalties at an independent appeal service.
This has been set up to mirror the appeal service already available if you think your on-street penalty was issued unfairly and it's legally binding if it finds in your favour. The only drawback is that it only applies to penalties issued by parking contractors on the British Parking Association's approved operator list.
Not everyone is happy with the ban, of course. In a statement, Angela Sheen, associate partner at chartered surveyors Johnson Fellows, said, "There is a genuine worry that the new clamping ban will encourage members of the public to park where they like, which could lead to service areas and access roads being blocked."
The company recommends owners of private land to use the services of FlashPark, which sends penalty notices to the keeper of the vehicle based solely on the evidence of a picture sent from the owner of the private land. At least FlashPark is an approved BPA operator so you can appeal.
But let's not forget, this is a good day. Share below any particularly heinous clamping stories you remember/suffered that we may exorcise the ghost what was, let's face it, a pretty ugly period in the history of civil liberties.
Gassing Station | General Gassing | Top of Page | What's New | My Stuff