Tuesday 2nd October 2012
Spotted: Ford Sierra RS500 Cosworth
A legendary car in beautiful condition and yours for ... how much?!
---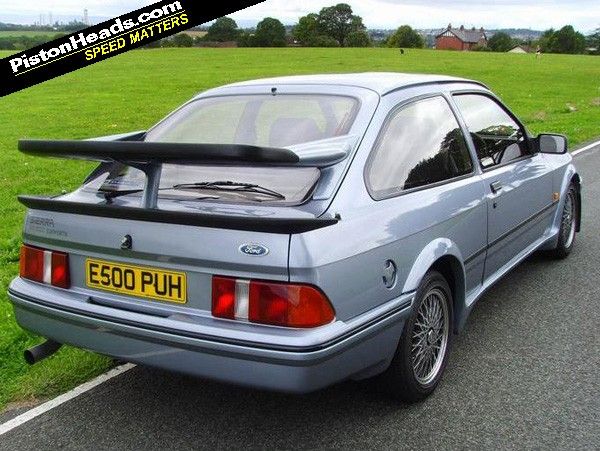 There are two very distinct viewpoints from which to look on this Ford Sierra RS500 Cosworth. The first is that, owing to its provenance, this particular RS500 is as significant a Ford homologation special as any RS200 or RWD Escort. The other perspective is that no Ford Sierra from 1987 can ever be worth as much as a brand-new Jaguar XFR, regardless of its condition and role within Ford's motorsport history.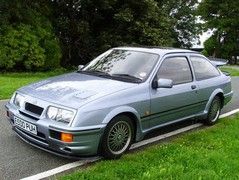 Collectable fast Fords typically fetch big money...
The RS500 was a true homologation special, with Ford intent on developing the
Sierra RS Cosworth
to further extend its domination in global touring cars. The rules stipulated 500 road cars must be built incorporating the changes for the race car, and the RS500 was the result. Though its power gain over the standard Sierra Cosworth was modest (around 20hp), the RS500 received a stronger engine block, along with a larger turbo and intercooler to facilitate Ford's racing ambitions for the car.
But what makes this a £65,000 RS500 when even really nice examples can't command £40,000? Well, this is the 499th car and, because no record exists of the 500th, ergo the last RS500 known to have rolled off the Genk production line in Belgium. Moreover, as a Moonstone Blue car, it rivals some super-exotica for rarity value; only 50 were ever painted this way, and only around 30 are believed to still exist.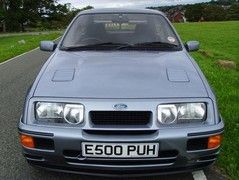 ...but even so £65K seems a little fierce
'Pampered' is probably the most suitable term to describe this RS500's 25-year life; it's covered only 23,000 miles, has been used predominantly on dry roads, and in the boot you'll find the original front foglamps, box-fresh from the dealer (!).
But it is this concours condition that could, for some of us, detract from the Sierra's appeal rather than boost it. With this sort of mileage and condition, regardless of what the vendor argues, you won't want to use this RS500 for a blast across the continent. Or anywhere. It's simply too pristine. And that's a real problem for two interrelated reasons. A Sierra Cosworth RS500, any Sierra Cosworth, is ostensibly a driver's car. Therefore surely your money would be better spent on more usable example that you could actually enjoy regularly on the road? And if you would prefer a classic to admire and use only very occasionally, then why blow £65K on a Sierra? You could argue the only suitable place for the RS500 is the Ford Heritage Collection. It's a car of huge importance to the brand and, as part of its fleet, it can continue to be cherished and preserved as it should.
A final note on the price; the seller has already rejected a bid of £62,000 and so seems intent on getting the full £65,000. Anyone?

---
FORD SIERRA RS500 COSWORTH
Engine: 1,994cc, four-cylinder turbo
Transmission: 5-speed manual
Power (hp): 227@6,000rpm
Torque (lb ft): 204@4,500rpm
MPG: 25
C02: N/A
First registered: August 1987
Recorded mileage: 23,900
Price new: £19,950
Yours for: £65,000
View the original advert here.
Gassing Station | General Gassing | Top of Page | What's New | My Stuff