Wednesday 10th October 2012
Spotted: Porsche 944
Park the 911-based snobbery, it's time to wake up to the 944
---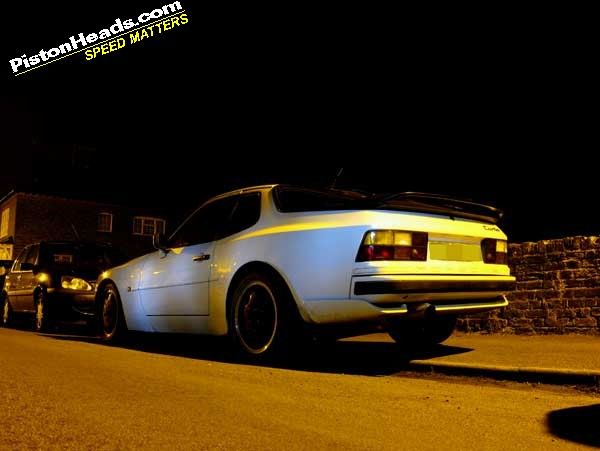 Many a plan is hatched at the pub. Many a better one on the walk home, the combination of fresh air and ale-enhanced dreaming a potent accelerant combined with a bit of speculative man maths.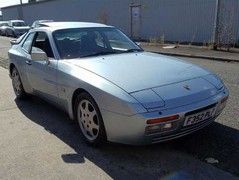 Turbo S is probably the informed choice
So it was that I walked past a 944 Turbo the other night. And it got me thinking. And straight
into the classifieds
when I got home.
Now, the 944 is one of the cars I vividly recall from my earliest days reading car magazines. No idea why I was more struck by these than 911s but, along with Sierra Cosworths and the like, the 944 seemed like an attainable kind of performance car. A dream within reach as it were.
So it proves today still.
It's easy to be blinkered by 911s and, sure, if you've got the funds who's to say you shouldn't. But that moment where a car goes from being a mere abstract memory to something more vivid and real may, I think, have just happened with the 944. This one I saw, it was nothing too special. Nice but there are better. But it just struck me as so compact and purposeful compared with all the seemingly vast modern cars around. It's an old car and it looks it now but that's what makes it more charming. Having spent a while looking simply outdated enough time has passed and it's now taking on a pleasingly classic feel.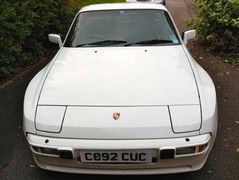 Low miles, big price but very tempting
So what 944 should one be buying? Well, head says this
944 Turbo S
, complete with the desirable S2/Turbo bumper, 250hp, M030 suspension and LSD is the driver's choice for a smidge under £5K. Or if going quickly really is your thing Porsche specialist RPM has a much more expensive but sorted
'Clubsport'
of its own specification for £10K.
Nah. I want a proper 80s one though. It'd mean forgoing the turbo for the separate bumper Lux look. This white one, complete with bulging history file, is pricey at £5,750. But if the reality is even close to the description it's the 944 imagined by my teenage mind and though down on power has the nice 928-style dash, oval-centred wheel and later aluminium suspension components.
So, basically, what we have here is one of the older, slower and more expensive 944s in the PH classifieds. You can do it cheaper – a lot cheaper. You can do it faster. But this one, with a set of black Fuchs, is the one I'd have.
---
PORSCHE 944 LUX
Engine: 2,479cc 4-cyl
Transmission: 5-speed manual
Power (hp): 165hp@5,800rpm
Torque (lb ft): 151lb ft@5,000rpm
MPG: 21.4 (overall figure, as tested by Autocar 1985)
CO2: N/A
First registered: 1985
Recorded mileage: 75,000
Price new: £18,354
Yours for: £5,750
See the original advert here.
Gassing Station | General Gassing | Top of Page | What's New | My Stuff