Wednesday 10th October 2012
Silent SLS gives us the creeps
How do you want your SLS - electric or with side exhausts and a 6.3 V8 installed by Bernd Schneider?
---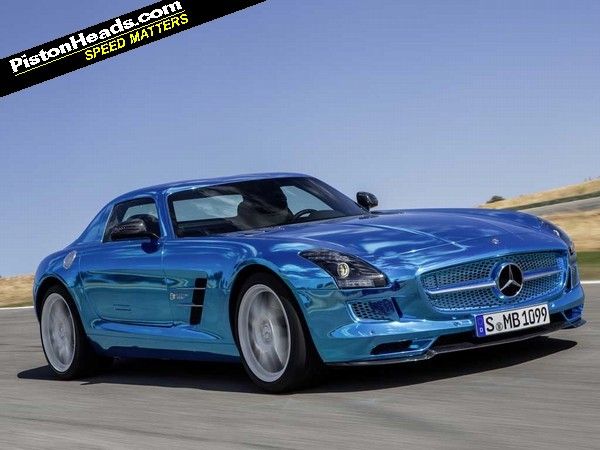 Going by reactions to the
M5
/
M6
and
new Clio 200
it'd seem we're pretty much agreed that fake engine noise isn't what we want. But what about no noise at all? That's the spooky electric reality played out in
this video
of the SLS AMG Electric Drive lapping Ascari Race Resort in – sshhh – absolute silence.
Sure, it'd help track day organisers battling troublesome NIMBYs. Like the ones that moaned when the 'proper' SLS launched at Laguna Seca and was apparently tripping the drive-by at over 100 decibels! You'd have thought those living nearby would be used to this kind of thing but apparently it ruffled a few feathers.
And that's partly the problem. Any other car could pull off this trick of high-speed silent lapping and we'd probably be quietly (natch) impressed. But the fact it's being done by a car whose petrol-powered equivalent is one of the finest sounding cars ever built only makes an electric future seem even more depressing.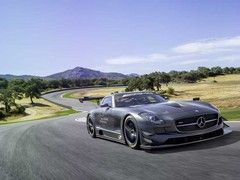 Phew, that's more like it...
Ho hum. We know it's coming. And, as seen
at Paris
, you'll even be
able to buy
an electric SLS of your own soon. But, really, why would you want to when there are few more glorious ways of burning the earth's remaining fossil-based resources?
And just to underline that AMG has also announced a 45th anniversary special edition SLS GT3. With a V8. And side exhausts.
OK, it'll cost you nearly half a million euros and they're only making five. Oh, and it's not road legal either. But it does come with a suitably menacing matt grey paintjob, a bit of 45th anniversary chintz and a handover ceremony with none other than DTM/AMG hero Bernd Schneider. Who's also helping fit the engines to the five special cars. Best hope he's as good with the spanners as he is with the driving, eh?
Teasingly this was also photographed at Ascari. Can we have a video of that too please?
Gassing Station | General Gassing | Top of Page | What's New | My Stuff