Wednesday 10th October 2012
Ecoboost Formula Ford coming?
Limited edition, road-legal version of the Ecoboost Formula Ford could be built
---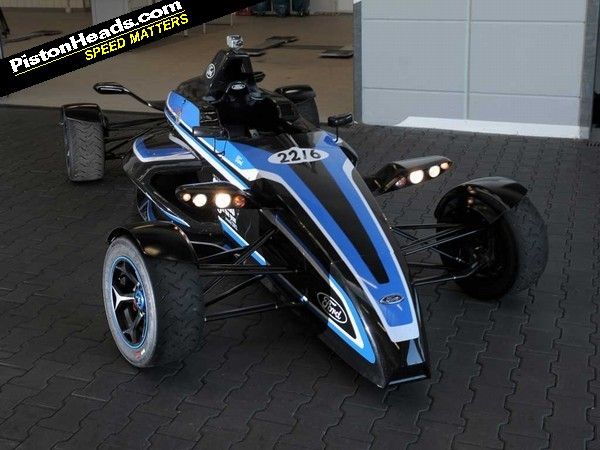 Could this be the least sensible Ford ever to come out of a showroom? The company has told us that it is considering selling road-going versions of the one-off Formula Ford car powered by the one-litre
Ecoboost turbo engine
that recently
blitzed the Nurburgring
in 7 minutes 22.
"It's certainly feasible and we're looking at the possibility," a spokesman told us.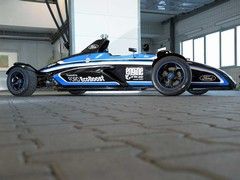 Road legal? Are you sure? Apparently...
The figures are certainly tempting. The Nurburgring car makes 205hp in a 420kg chassis and Ford claims a 0-60mph of below four seconds. It's even said to return 57mpg at 75mph. The engine could make up to 220hp according to engineers, but even if the production version was throttled back a bit, there would be still little to touch it.
But come on Ford, we know this one is road-legal, but you can't really be serious about sticking it showrooms next to the S-Max, can you?
"There's been much talk about whether we do a limited run of 50 cars. We are looking at it." confirms Roger Ratley, petrol calibration manager and one of the lead engineers on the project. He admits to a "whole host of issues" such as needing to subcontract out the production, but there was definitely a collective gleam in the eye of engineers and marketing men at the event we were told this.
It's mainly to show off the one-litre three-cylinder turbo unit, most recently revealed for the Focus and B-Max. The hike in power from 125hp to 205 was achieved simply by bolting on the bigger turbo from the 1.6 Ecoboost engine.
Max revs were increased to 7,500rpm by removing the heavy dual-mass flywheel (fitted to improve refinement and reduce gear rattle) and replace it with a lightweight steel version. It was dry-sumped and that was about it.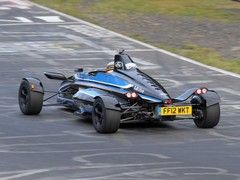 Look, it's got a numberplate and everything!
Ford says there's no plan to replace the 1.6-litre Ecoboost engines currently running in Formula Ford cars, but this does have the advantage of being about 32kg lighter, largely down to the loss of a cylinder.
Of course the engine in road going applications is all about trying to give a petrol the economy and torque of a diesel, but that frugal thinking helped here. "Everything we did to make it lightweight and economical, for example low friction, helps with producing more power. Put a big turbo on it, help it breathe and it just goes," Ratley told us.
But aren't small, high-powered engines a nightmare to tune reliably? Wrong, we're told. For a start it's a turbo, so the engine is already built to withstand high temperatures. But the biggest reason is that it's built to a global spec. "We have to sign it off to run on rubbish fuel, in 40 degrees C temperatures, towing a caravan up a hill with five people and a dog. To some extent it's been compromised." says Ratley. "World engines are very tuneable."
Gassing Station | General Gassing | Top of Page | What's New | My Stuff