Friday 2nd November 2012
Ringside Seat: no news is good news?
Snow stops play and gives time to ponder what the future has in store for the 'ring
---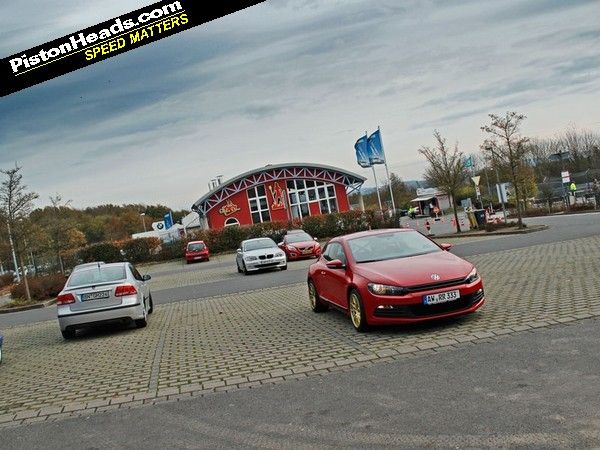 As you can see from above, things are quiet here at the Nurburgring right now. This year the end of the season has arrived rather abruptly. October was a blur of activity; lots of public sessions, track days and special events.
Then the snow hit for a single day, and all the bookings just stopped.
And in the silence left behind, all I can hear is one question. "What next?"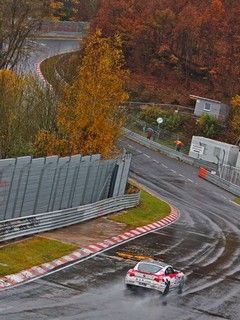 Do you feel lucky, punk?
The destiny of the 'ring is still totally undecided. While I'm still feeling pretty positive about
the future
, the truth is nobody can say for certain what will happen next.
In the last few days the maligned NAG lease-holders officially left their offices and a new sign appeared on the Nurburgring office doors. While NAG are still running place, at least the way is clear for a new direction.

As you'd expect after this news, rumours are flowing quicker than the weissbier. Popular topics include the asking price for the track, or if it might be sold separately from the concrete mess that is the 'Eifel Dorf'. Possible buyers dominate the conversations too. From rich Arabs to Hollywood millionaires, everybody knows somebody who is interested. Possible consortiums of top-tier German businesses are already being formed by brown-nosed yes-men intent on taking their commission.
My personal favourite rumour (although possibly the least likely) is that the circuit could be bought and operated by a co-operative. I like that idea, millions of motorsports fans around the world would love to be a shareholders of the Nurburgring.
But to be honest, it's irresponsible reporting (when has that ever stopped me) to start regurgitating every rumour in every gory detail here. But conjecture runs rife when the atmosphere is starved of truth. And what I find disagreeable is that once again the future of the 'ring, and of a whole dependant region and economy, is being discussed (and maybe even decided) behind closed doors. That's exactly what got us into this mess.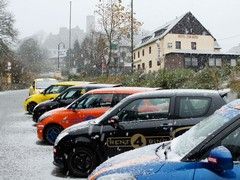 OK, perhaps not the weather for it
After years of living and working here, I should be used to the mushroom treatment, and to be honest, I kind of am. So my blind optimism is telling me not to worry too much, that the money-printing Nordschleife will be safe and I should just get on with enjoying it. And that's pretty much the attitude being taken by most local businesses - investment and growth continues unabated.
Hotels are adding more beds, yet more new buildings are going up down at the industry park. My own employers are refreshing and increasing their fleet of rental vehicles, swapping from one German hot hatch to another. Yesterday this gave me an opportunity to stop worrying about the future and do some actual laps planning for it. And that's a pleasure considering the snow on Monday scared the whole track empty again.
Now call me a snob, but DSG, VAG and FWD are not acronyms that I would normally associate with trackdriving pleasure. But I was happy to be proved wrong, so it doesn't matter who will be running the track next year; we'll be renting out race-prepped Sciroccos for it.
Gassing Station | General Gassing | Top of Page | What's New | My Stuff