Friday 25th January 2013
POTW: As tough as it gets...
A two-wheeled Pic Of The Week starring Dakar-winner Cyril Despres in suitably epic surroundings
---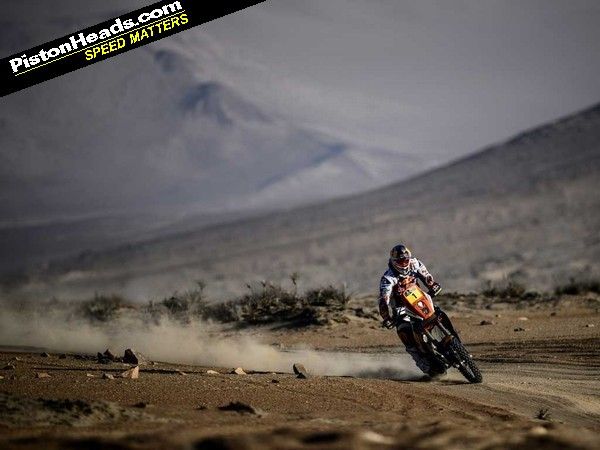 Red Bull KTM factory rider Cyril Despres won his fifth Dakar rally this week, battling not only over 5,000 miles of treacherous terrain but also a few mechanical issues and a slight navigational error.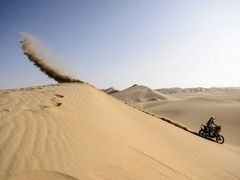 Think you're tough? Clue, you're not...
With his team mate, and main rival, Marc Coma sidelined before the race even started, Despres was odds-on favourite to take the title but with Dakar nothing is certain.
After being in the leading pack for the first few stages, Despres' KTM suffered a gearbox issue that saw him lose sixth gear and drop time. As the fault happened on marathon stages seven to eight this meant that he was unable to get any help from KTM's mechanics and instead was forced to break out the spanners and sort it out himself. Being KTM's number one rider, this involved him trading his motor with fellow KTM rider Marek Dabrowski, something he did in the bivouac overnight with the help of other KTM riders.
Incurring a 15-minute penalty for the swap, Despres rapidly made up the time and by stage 10 regained the lead and never looked back. He won his fifth Dakar title by 10 minutes 43 seconds from fellow KTM rider Ruben Faria with Chaleco Lopez, who was also on a KTM, in third.
Traditional (4:3)
Computer widescreen (16:10)
TV widescreen (16:9)
Portrait (smartphone, etc)

---
And if you want some video too check out this 'best of bike' round-up from the Dakar website.
Gassing Station | General Gassing | Top of Page | What's New | My Stuff